Speed-the-Plow
By David Mamet. Sydney Theatre Company. Roslyn Packer Theatre. November 8 to December 17, 2016
In 1988 David Mamet really let rip with this savage satire on the greedy gatekeepers of Hollywood and all their banal, money-making formulas.
These Hollywood gladiators attack with the same spitfire language and obscenities as those real estate salesmen who tear each other apart in Glengarry Glen Ross, Mamet's other classic of the time. A Hollywood player himself, Mamet today is a touch more benign about the place.
In Speed-the-Plow, a newly promoted head of studio production Bobby Gould is visited by a former partner/rival Charlie Fox with an unbeatable formulaic film deal. They agree on credits and dream of sequels of wealth ahead. But overnight Gould becomes seduced by his temporary secretary and an alternative promise of making instead a shattering film about the end of the world.
Andrew Upton returns to the STC to direct this contained three-hander in David Fleischer's box set, which alternates between Gould's office during renovation – cluttered with ladders and paint trolleys – and his featureless, glass walled LA living room.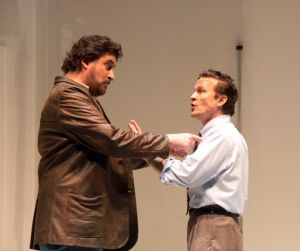 Upton steers the limited action fluidly through both settings, the three performances are true, even endearing, and the text of course is funny and builds to a suspenseful conclusion.
But what's missing is Mamet's explosive anger and pace, the bugger-the-subtext approach of his countrymen with every line an attack. It's an energy of engagement which was also lacking a few nights earlier at the Sydney opening of another, albeit gentler, Mamet play, My Life in the Theatre.
Lachy Hulme captures this thrust of Mamet best as the robust but near thwarted Charlie Fox. Damon Herriman is just too fresh-faced to be Bobby, with little of the jaded cynicism required as in witty contrast to his later transformation.
Perhaps even more miscast is the endearing Rose Byrne as Karen, naïve and enthusiastic but with no hint of that steely ambition to beat the boys.
If Upton had turned up the intensity threefold, then the back half of the Ros Packer Theatre would also not be all leaning forward to catch the words. They were certainly worth catching.
Martin Portus
Photographer: © Lisa Tomasetti