The Spooky Men in Concert
The Independent Theatre, North Sydney. February 16, 2020
Who are the Spooky Men?
I've seen The Spooky Men three times! Does that mean I'm a Spooky Groupie? Perhaps!
Each time I've seen them I've been impressed by their voices, their comic concentration and their Spookmeister, Stephen Taberner's droll humour and wait-a-bit-longer-and-I'll-come-to-the-point delivery. I've been further impressed by the size, enthusiasm and demographic of the audiences that follow them.
So, who are the Spooky Men? What's the attraction? Here, in Australia, and in the many gigs in which they've performed in their European and UK tours?
The Spooky Men are 16 men who can sing. Many of them hail from the Blue Mountains. They wear black – and hats. It's not so much a uniform as a personal statement. They are all different. Some wear suits. Some wear jackets. One wears a black singlet, shorts and work boots. Their hats vary too. An air force side cap; a pith helmet; a tilley hat; a cowboy hat. Taberner always wears a ushanka – a Russsian hat with ear flaps – even at summer concerts. If clothes make the man, the Spookys' hats make each Spooky!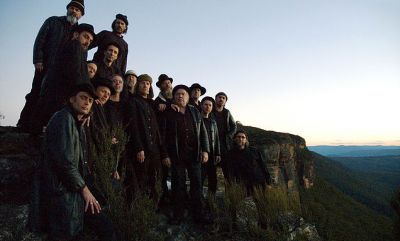 Oh, and they "can grow beards … if they want to" as they tell you in their signature song We are the Spooky Men. Some of them do – grow beards, that is. Others grow their hair long as well. Each appears as an individual within the whole of this unusual a cappella group that moves easily from Georgian songs, to topical satires written by Taberner, to a gentle adaptation of Tennyson's metaphorical elegiac poem "Crossing the Bar".
They come onto the stage separately, diffidently, and form a semi-circle, faces passive, eyes fixed on something, somewhere, but not directly on the audience. Taberner enters casually. He does look at the audience. As if assessing them … or the space … or something. It's probably a little unnerving if you're seeing the Spookies for the first time – but when the audience starts to smile under his scrutiny, then laugh, you realise that this something more than a concert.
Rather, it's a very tightly structured performance. Taberner is a consummate comedian hiding behind a hat. The Spookies are good actors as well as talented singers. They watch and listen carefully. Their subtle reactions to Taberner's spiels are perfectly timed. Sometimes it's just their eyes. At others it's a slight change of balance or a lift of the chin. Sometimes it's just one of them who makes an imperceptible movement. But each reaction is practised, rehearsed. It's all part of the act that makes their performance more than just "a men's group".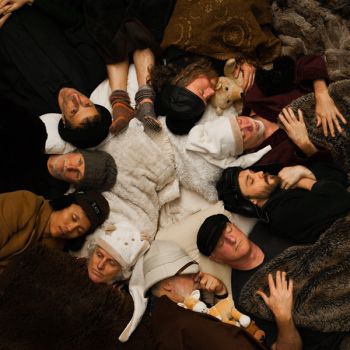 Taberner's 'script' might change slightly dependent on the audience or the venue, but the gist is the same – and the Spookies' reactions are spot on, extending the humour by the very fact that they are all in every moment. They know the instant the spiel is coming to an end. It might be the tap of Taberner's foot. Or a hand movement. But they know they are about to sing. A send up of the Bee Gees sees the Gibbs brothers' names strangely changed. A tribute to Queen sees them strip off their black shirts to reveal Freddie's white singlet. An encore might have the audience singing along to James Taylor's "Shower the People with Love".
That's the key to The Spooky Men's Chorale. There are funny moments, satirical moments, sad moments, all built into a surrepticiously but meticulously devised performance that gives the audience much more than the music – just as it did on Sunday 16th February when they returned to a full house at the Independent Theatre North Sydney to begin their 2020 year.
Check them out on your search engine. Follow them on social media. Buy one of their albums. Watch for their next concert. The Spooky Men are far from spooky! They're talented, entertaining – and lots of fun!
Carol Wimmer