Spring Awakening
Music: Duncan Sheik. Book & Lyrics: Steven Sater, based on the play by Frank Wedekind. Oscar Theatre Company. Cremorne Theatre, QPAC. Director: Emily Gilhome. Musical Director: David Law. Choreographer: Rodney Pratt. 14 – 22 October 2011
I was blown away by this production as much as I was when I saw the original cast on Broadway. It's a classy piece of musical theatre, and there's class written all over Oscar Theatre Company's production of it. Based on a 116 year-old German play by Frank Wedekind that was banned for a hundred years and has since been called a masterpiece, this musical version of the work is as relevant today as it must have been back when it was written.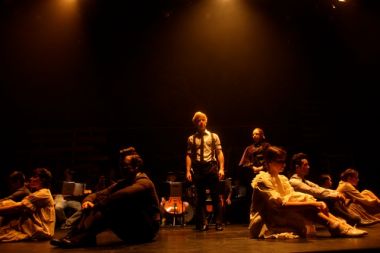 Director Emily Gilhome captured all of the anguish, innocence and joy of this coming-of-age youth story which touched on masturbation, flagellation, suicide, and sexual awakening. A strong ensemble cast brought thunderous applause for the showstoppers, "The Bitch of Living," and "Totally F**cked," with "Touch Me" equally as effective. Siobhan Kranz as Wendla, and Charles Sells as Melchior made a perfect pair of young lovers, scoring with "The Word of Your Body," while Kranz did fine solo work on, "Mama Who Bore Me," and "Whispering." Dash Kruck as the doomed Moritz, handled the pain of the character with skill. David Law's musical direction, Daniel Anderson's lighting plot, and Tim Wallace's set design all added to the overall high standard, but it was Rodney Pratt's choreography, mirroring the Broadway original, that put a distinctive and memorable stamp on the production.
Photographer: Jack Johnson
Peter Pinne
To keep up with the latest news and reviews at Stage Whispers, click here to like us on Facebook, or follow us on Twitter.