Springsteen
Written and directed by Gabriel Bergmoser. Bitten By Productions. At Tuxedo Cat Melbourne. January 25 – February 4 2017.
Bitten By Productions presents Springsteen, only in part a biography of a living legend of Rock'n'Roll, Bruce Springsteen. Writer and director Gabriel Bergmoser didn't set out to capture the life of one of our most celebrated musicians in it's entirety; to do so would be impossible. Instead he cleverly constructed a play with a series of six vignettes, each one capturing a moment in time before the release of six major Springsteen albums spanning many decades. It explores the joys and tribulations of striving to be the greatest; it summarizes the cost of ambition, both the rewards and the losses and the idea that everything comes at a price.
Springsteen beautifully captures not simply the brand that is the iconic artist but looks at the human side, the results of putting everything into a life-long dream, losing friends and loved ones along the way, feeling the elation of achievement but also the loneliness, even though you are loved by millions. It truly captures the brilliance that I most admire in Bruce Springsteen; he wanted more than anything to produce the best rock'n'roll songs ever made and he did it, repeatedly, each time improving, experimenting and continuing to give everything to his art. That tenacity was at any cost, a lifetime dedicated to his work, and that is to be respected.
On a minimalist stage, a cast of five superb actors mirrored their real to life characters expertly. Bruce was played by Chris Farrell, who genuinely gave us the man with the dream who never gave up. He really stepped into Springsteen's shoes with dynamic and convincing acting. As powerful as Farrell was, I could not say he was the standout, as I think all the actors were equally substantial and all took the lead when in the spotlight.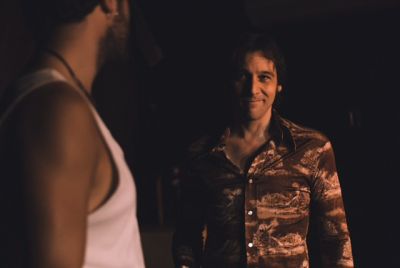 In Springsteen's early career his original manager was Mike Appel, played by Justin Anderson. Steve Van Zandt was one of the E Street band members, guitar player and friend and he was played by Kashmire Sinnamon. Both were wonderful, sincere and very persuasive; they gave a clear and emotional insight into the strong influence both men had on Springsteen's career and his life.
It was interesting how Bergmoser chose two of the women in Springsteen's life that would have a part in his play, an early girlfriend ,Wendy, performed by Jessica Papst and Patti Scialfa, played by Alicia Beckhurst, who was once a member of the E Street band and is Springsteen's wife of 26 years.
It is said that the lyrics to 'Born to Run' were a love letter written to girlfriend Wendy in the early 70s; this went on to be one of the biggest Rock n Roll songs ever. I think it's timeless and because of that Wendy was definitely a good choice for the play. It also showed that she was one of the early loves in his life that could not tolerate him putting his music and ambition above everything, so she left the relationship.
Between the six vignettes Papst played on acoustic guitar and sang snippets of Springsteen songs. Although a great vocalist, it just didn't spark the essence of his songs. I would have much preferred the real Springsteen tracks blaring out of the speakers as it did only once or twice; I found it far more powerful hearing a few seconds of the artist himself.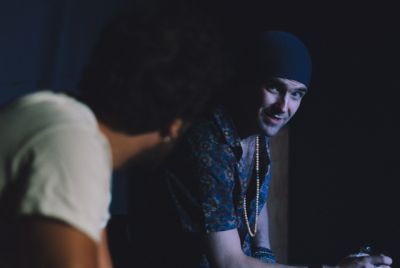 When characters Patti and Bruce were on the stage it really showed a pivotal point in Springsteen's personal life. His wife, and mother of their three children, changed his life significantly but I think this was due to timing; after giving everything to his music and achieving his goals he found himself a man alone despite his fans and successes. With Patti he found the love that was lacking and the long-standing marriage is proof that it was definitely a turning point.
I would have liked to see a more pivotal moment in his career carried out with greater fireworks and excitement. Instead the play kept a very steady and smooth pace throughout; the conversational, informative narration told the story but it required the recognizable point when he reached his peak - the exhilaration was not quite emphasized enough. Maybe it was in the moment after the New York 9/11 tragedy, when a driver pulled up next to him and said 'we need you more than ever now', some words to that affect, but I still wanted more of a celebration of his achievements.
However in its totality the play is an absolute winner, intense, revealing and so wonderfully acted and directed. There was never a moment when it didn't hold my attention fully. I am not a die-hard Springsteen fan but his songs trigger memories of my past and are ingrained in my history; they are timeless and this play has revived my desire to listen to his music, old and new. Bruce Springsteen is 68 years old and is touring Australia this year; he continues to perform to millions of adoring fans, still strong, still fit and looking amazing if I may add.
Lisa Romeo