St Nicholas
By Conor McPherson. The Street Theatre, Canberra. Online livestream 5 to 7 June 2020.
Stage Whispers reviewers Beth Keehn and Cathy Bannister both caught The Street Theatre's online streamed production of St Nicholas.
The Street Theatre's livestream performance of Conor McPherson's St Nicholas is the first really good local example I've seen during lockdown of what can be achieved by theatre in the digital space. Refusing to let the COVID shutdown period spoil their season, the Street Theatre team changed their approach to present the play live, but in a socially distanced, virtual world. Husband and wife team – director Shelly Higgs and performer Craig Alexander – used their garage as a rehearsal space during the lockdown, working to incorporate cameras into the theatrical action. Back in the theatre, the production was filmed and livestreamed over three nights (5 to 7 June) – for free or a donation. They used the Vimeo platform with a password for ticketed entry.
Cleverly directed by Higgs, the action was beautifully filmed by the Creswick Collective, with wonderfully edgy live music and sound design by Den Hanrahan, and superb production and lighting design by Imogen Keen and James Tighe. This was not a case of setting up the camera on a tripod and letting it roll. This was a properly rehearsed and filmed piece, with a mix of stationary and moving cameras, close-ups and sparse but nifty effects to suit the script and action. Liam Budge seamlessly operated the camera and there was excellent use of vision mixing by Kyle Sheedy and lighting operation by William Malam to add further cinematic quality to the broadcast.
Alexander was convincing as the often-drunk, self-loathing theatre critic from Dublin who deserts his editor – and his family – to follow his obsession (a young actress) to London's West End, where he is dazed by the lights of Theatreland. After ensconcing himself in a series of watering holes, he follows the object of his desire and ends up on the streets near Crystal Palace Park where he is seduced by William, a vampire, into a Faustian pact – he can shed his middle-aged bulk and appear attractive to post-theatre gatherings of young people as long as he entices them back to the household of contemporary vampires to supply them with fresh blood – or does he? We only have our unnamed narrator's word for it – and we are never really sure of his reliability. Was it all a hangover dream? When he describes William: "He slept all day and came out at night to beat people" – is he describing the vampire or himself? Although, struggling with writer's block, and boasting of his habit of leaving the theatre 10 minutes before curtain close to hit the pubs, he is in no real position to hurt anyone any time soon.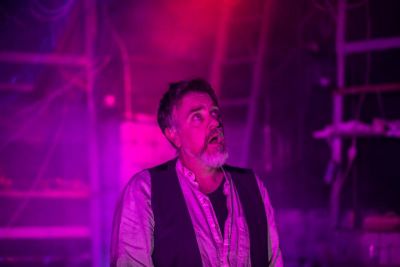 As a solo actor, Alexander filled the stage in a deftly blocked exercise. He brilliantly handled the overly long monologue form – tackling his character's intoxicated Irish accent and evoking the stereotypically Transylvanian vampire. Den Hanrahan's eerie guitar and keyboards accompanied the action every step but was never intrusive.
It is a strange play. The character's self-loathing and soul-selling forms the swirling narration as he talks us through the action. The eponymous St Nicholas never arrives bearing gifts for our needy protagonist – but the writers' block that has been troubling our critic finally lifts, so we suppose he has his gift – his story.
For me, this play is overly verbose and its themes could easily fit in a shorter piece. At more than 20 years old, the material is starting to show its age and would benefit from the hindsight of maturity and more humour. But any theatre critic disliking this piece will always sound like they are squelching sour grapes because of the play's focus on the blood-sucking nature of a creature who makes a living faulting the creative efforts of others. Dublin-based McPherson has received accolades including "The finest writer of his generation", and fabulous lines like: "the air began to fizz with pointless regret"; and "reason had crept into the room behind me and caressed my neck": may have helped garner the accolades – and are undoubtedly great fun for actors to play with. I did find his descriptions of London compelling and evocative, and this piece would work equally well as an audio play.
In a production at the Smock Alley Theatre in 2018, Brendan Coyle mingled with the audience, as did Brian Cox in the inaugural production at London's Bush Theatre. Naturally, with social distancing, that technique is not possible. The Street Theatre team say they are looking forward to sharing St Nicholas with a live theatre audience when restrictions lift. Until then, this creative troupe have succeeded in bringing the audience as close as possible to the story using digital technology. I hope the performance is made available online after the weekend screenings to reach a wider audience.
Beth Keehn
Of all the ways white middle-aged men deal with midlife crisis, falling in with a bunch of vampires is one of the less cliched. Thanks to COVID-19 social distancing regulations, The Street Theatre has adapted this one-man piece to video. They create an intimacy using tight close ups and mostly, just the one camera following performer Craig Alexander around the stage.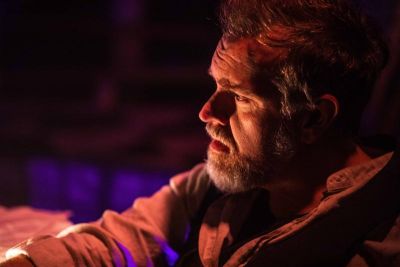 The close ups and unforgiving crops show how well-drawn Alexander's performance is. His Irish accent is spot on as far as I can tell, and his cadences are those of a writer, with pauses to consider the best word to use in a situation. He punctuates his words with a long, noisy inhalation – a kind of backward sigh with which he buys time before he starts to speak. Alexander's critic is a raconteur with an empty life, taking out his bitter ennui on those whom he writes about. He is the archetypal unreliable narrator, the very statements he uses to declare love full of contempt for whom he's claiming to care for.
However, the character's distain for other people is nothing on his own self-hatred. Later in the play the closest he comes to being able to salvage a little self-esteem is by noting that he unlike the vampires has a conscience – even though he's loathsome, at least he loathes himself. The beauty of it is that in spite of his being utterly pathetic, you like him. You feel sorry for the utter creep.
The stage is styled as Edwardian decay, a nod to the vampires, and the lighting is suitably creepy, with excellent use particularly of one hand-held LED which Alexander uses almost as a puppet to create the effect of street lights passing in a car, to cast a third of his face into puce and blue shadow or (ironically) throw light under his chin. Rounding out the atmosphere is the excellent sound design and music by Den Hanrahan, featuring a drawly, bluesy steel guitar played live throughout.
It raises the issue of what is "theatre" in the age of isolation? Is it the immediacy, the fact that we're all tuned in at the same time? It seems to be with the aesthetic and expertise, bringing craft, traditions techniques, language and genres of the stage to video, which is crowded with realism and amateur production. Hopefully this will become a moot point in Australia, but it's great to see The Street Theatre adapt and explore within the challenges posed by the new environment.
Cathy Bannister
Images: Creswick Collective