Star Power
Directed by Mitch Whelan. Fringe World. The Studio, The Blue Room, James St, Northbridge, WA. Feb 11-15, 2020
Mercury is in Retrograde and it's going to be bad, so April has invited us all to Simon's Uncle's holiday house, to have a party and ride it out.
This collaboratively written show sometimes doesn't quite seem to know where it is going, but it has such lovely intentions, that the audience just give up expecting things to make sense and settle in to enjoy the ride, as we share cheezles, lament the loss of nachos and try to guess each other's star sign - something that isn't easy for beginners Olive!
The characters are a likeable collection of eccentrics. April, who insists on us knowing she is a Leo, is determined to take charge, and is played with precision by Sian Murphy. Her best friend Simon seems a bit lost, but quickly becomes an audience favourite as played by Lindsay McDonald. Cousin Olive is a wonderfully eccentric, directionally challenged sweetie and is nicely portrayed by Hannah Davidson. Louis Spencer revels in the role of eye patched wild-child Falcon.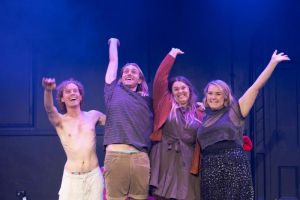 Other guests at the party include Spencer Herd, creating party atmosphere with his lighting and Clancy Davidson, who creates the party music live. The final guest to arrive (and seemingly a late addition to the cast too) is the most surprising and is played with great energy and verve by Tristan McInnes.
While it doesn't quite reach the heights that it could, it's probably the whole Mercury in Retrograde thing, and this is still very good fun.
Kimberley Shaw