Stark. Dark. Albert Park.
Created by Clare Mendes. Melbourne Writers' Theatre. Directed and Designed by Elizabeth Walley. Gasworks Arts Park (Vic). 14 – 22 September, 2018
Stark. Dark. Albert Park.is a standout Fringe Production of five fascinating, engaging stories from Albert Park. It is well worth making the trek to Gasworks for.
Melbourne Writers' Theatre generates excellent programs of uniquely crafted and well-honed writing for performance (It has been doing so for 36 years). Carefully cast and cleverly directed by Elizabeth Walley - well rehearsed and a comfortable length - this program is a grouping of five satisfying and refreshing 'framed snapshots' about Albert Park.
Darke's Ark by Bruce Shearer is presented with precision by Kyle Roberts, who truly embodies the somewhat pedantic nature of a surveyor. This is a lovely little taste of Melbourne's early history with some tantalizing dashes of irony and sarcasm.
Like the mind of a surveyor, it is written in a measured rhythm and is presented with convincing sincerity by Roberts.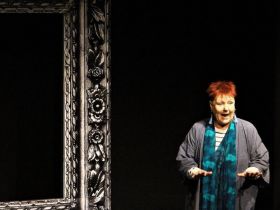 In Teddy Bear, Mazz Ryan is searching for lost pet shiatsu - an animal she is dog sitting. In this telling monologue, by Mazz herself, we are caught up in the complexities of her character's practicalities of survival in an increasingly more costly world.
This is a strong entertaining and penetrating piece of writing highlighting the vulnerabilities of its protagonist and elucidating performance by Ms. Ryan.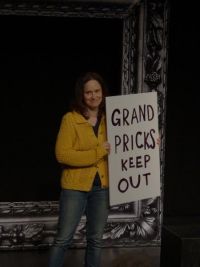 Emma Cox's performance of Clare Mendes's witty, clever work Invisible Petition livens up the evening. This funny energetic monologue generates considerable laughter as it parodies aspects of the life of a grand prix protester from the late 1980s.
Recognizably of its era, and costumed to perfection, this little gem is great fun and beautifully rendered.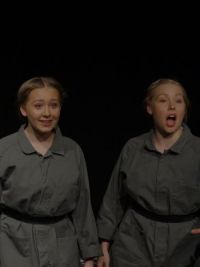 Russell Bywater's Happy Little … is my personal favourite for several reasons. The Gilbert sisters, Isabella and Cosmia, are a delight to watch, especially as they work with exquisite coordinated precision and energy when miming in sync.
Not a beat is missed in this engaging droll historical work about Vegemite. The sisters delight whilst tellingly bringing us characters of the 1920s and the story of winning the award for naming Vegemite. Truly a treat!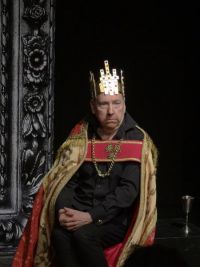 Alec Gilbert's work The Thring Is convincingly transports one back into the past, to pre Melbourne Theatre Company days, when actors were feted for their eccentric over the top performance of self.
Gilbert as performer contorts his mouth cleverly to sound and look like Frank Thring. For those of us who can remember the unique and unusual 'star', this work is an almost uncanny channeling of his essence.
The evening is capped off with a lively bit of musical ridiculousness in all cast members dancing to It's Raining Men. This leaves everybody energized and with a spring in their step as they bop off into the night.
Suzanne Sandow
Photographer: John Edwards