Steampowered
Circus Oz. Under the Big Top at Birrarung Marr, Melbourne. Artistic Director: Mike Finch. Season Dates in Melbourne - 22 June – 17 July, 2011. For tour dates in Mackay, Townsville, Cairns, Rockhampton, Gladstone, Brisbane, Gold Coast, Newcastle, Port Macquarie, Launceston and Hobart visit www.circusoz.com
Just in time for the Victorian school holidays comes Steampowered, featuring large doses of mirth, slapstick, comedic genius, astonishing physical feats, and quirky irreverence. Five minutes into the show, my shiny-eyed nine-year-old companion declared, My hands are going to be so sore from clapping. Playing on ambiguities in time, Steampowered asks how today would look, had it somehow come earlier than it did.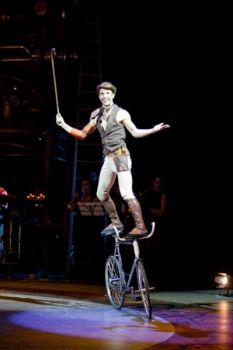 This is vintage Circus Oz: a show pulsing with a brand of creative energy that thrives on relationship with the audience. It's uniquely self-deprecatory style builds dramatic suspense as show-makers feign inadequacy, only to triumph in the end, to the apparent relief of all concerned. Wonderful!
Babes in arms. groovy grey-haired types, and all ages in-between who packed the Big Top at Birrarung Marr at last night's opening were wowed by the funtastic coordination of half-a-dozen jugglers, an hilarious comical trapeze complete with split trousers, 8 people on a bicycle, a stunning hoops display, super-sensual singing, and a balancing perfomance I was certain would come undone – but didn't. Tah Dah!
If you do anything this school holidays, this is the thing! Make sure you get there.
Lucy Graham
To keep up with the latest news and reviews at Stage Whispers, click here to like us on Facebook, or follow us on Twitter.