Steel Magnolias
By Robert Harling. Directed by Adam Salathiel. Laughing Horse Productions. City of Gosnells, Don Russell Performing Arts Centre, Thornlie WA. Mar 12 - 20, 2021
In a year where it seems that we are getting many male centred productions, it is lovely to see a female led favourite pop up again. Laughing Horse Productions' Steel Magnolias is a wonderful celebration of the strength of women and the importance and power of female friendships.
Set in a Louisiana beauty parlour, on a number of Saturday mornings over a few years during the 1980s, there is a good sense of time and place, thanks to a well constructed set by director Adam Salathiel and well chosen props and costumes from a team led by Kelly Salathiel. Mishka Miller's sound design is well curated and nicely balanced. The characters give a sense of the time passing and a glimpse into life outside the beauty parlour walls.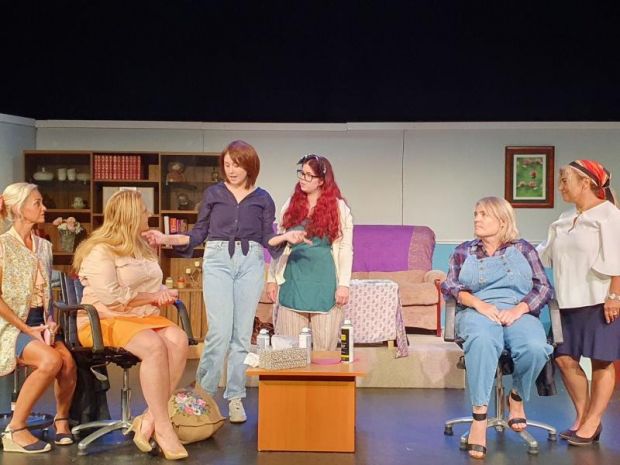 Gabrielle Sampson brings a lovely sense of ownership and professionalism to the space, as salon owner Truvy, creating a character who is warm, genuine and believable. Newcomer to town, Annelle, is played with lovely layers and a credible journey by Megan West. Laura Goodlet nicely inhabits the role of Shelby, a character whose story arc is immense, and creates a believable relationship with Diana Oliver, who tackles the demanding role of Shelby's mother M'Lynn with power and commitment. Ellie Cutbush brings sophistication and flair to community minded Clairee, with Petrina Harley giving comic flair and nice timing to the quirky Ouiser.
Well performed, Steel Magnolias is an intense emotional journey, and this production was clearly moving its first matinee audience from laughter to tears and back again. A gentle and moving production.
Kimberley Shaw