A Stone's Throw
Cross Encounters. Melbourne Fringe – Live Streaming Broadcast. Nov 25 – 28, 2020.
A Stone's Throw is an idiom meaning a short distance away. It is also the title of the new show brought to the Melbourne Fringe festival by Cross Encounters: a new intercultural Performing Arts Company that aims to promote the growth of cultural collaborations with Asia.
A Stone's Throw is the first physical theatre show to combine Australian and Chinese performers directed by Noah Zhao Wang. It includes music composition and sound design by Melbourne musician John O'Beirne, who has developed the traditional classic Chinese tones of Chinese instruments such as Sanxian, Erhu and Yuequin for the western solo guitar, along with an enchanting soundscape of running water and eclectic bird sounds.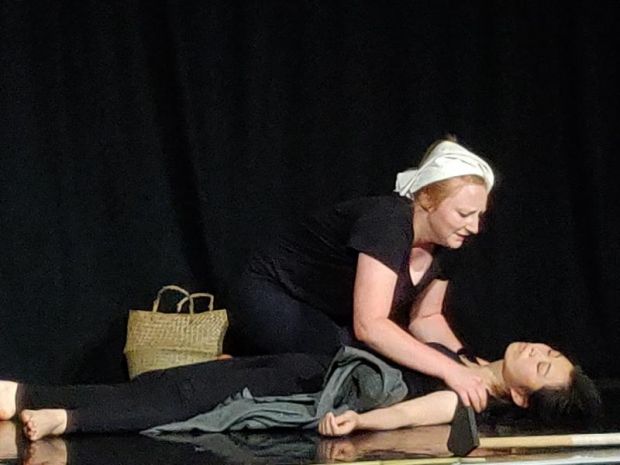 Three performers take to the stage (Rosie Ochtman, Jesse Donaldson, Olivia Wang). Dark and mysterious lighting creates a mystical aura as they move in unison, fluttering their wing- like-arms as they trawl across the floor with their backs facing the audience. They weave in and out, leaping with fluidity and strength as the story unfolds. This is a unique tale developed from traditional stories of the land, recreated into a cyclical life journey, set in a small Chinese village.
This is a simple story with four characters - fisherwoman, farmer, beggar and a wise man. The performers move swiftly into their character roles as they interchange and reach out in synchronous body movement and elegant gestures. This is a subtle yet upfront show that offers sorrowful yet beautiful encounters between rural people.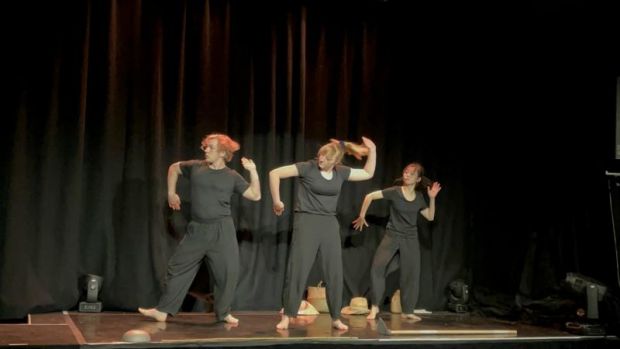 Wang has orchestrated a delightful piece of physical theatre and his expertise in physical theatre, working for the Chinese theatre group San TuoQui and the Beijing International Youth Theatre, including shows in Edinburgh and Avignon, is evident.
The masked musician (John O'Beirne) sits to the side of the stage with guitar, plucking with punctuating evocative sounds and caps off each act by dropping a stone in a fishbowl. It is a simple yet charming gesture that completes a part of the dramatic journey. I commend all the people involved in this show and look forward to their next production.
Flora Georgiou