The Stranger
By Agatha Christie. Hobart Repertory Theatre Society. The Playhouse Hobart. Jeff Kevin (Director). Jill Munro (Set). Jason James (Lighting Design). Karen Fahey (Costumes). 27 August – 11 September 2021
The Stranger is not your usual Agatha Christie, by reason of the fact that it was written by Agatha Christie. Hobart Repertory Theatre Society was originally to present Love from a Stranger, which is the Frank Vosper adaptation of Christie's work, in 2020. Subsequently, the company secured the rights for the first incarnation of the play which was only published in 2017 and they are the second or third company to do so.
The stock characters one associates with Christie are not in evidence. There is no Miss Marple, no Hercule Poirrot and no witless constable. Familiar are the servants, Pip Tyrell and Astrid Teifholz, as audiences have seen them before- archetypal domestics – one dour and humourless, the other ingenuously amusing.
So far, so good. In the first of three acts, the situation is established, Hobart in in the 1930's, and the main characters appear. Angela Zonno, as Doris West, only appears in this first act. In her debut performance with HRTS she is assured and comfortable in her role. If there is a fault in the script, it is that she and Tyrell do not reappear.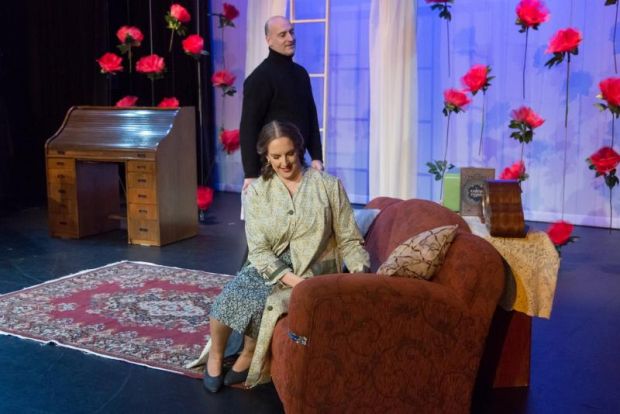 Jon Lenthall assumes the lesser of the two male roles but makes the most of the part. What might have been a stock character is believably developed in Lenthall's hands.
Karen Kluss as Enid Bradshaw and Steven Jones as Gerald Martin share the stage for the greater part of the play. Like a slow-motion train wreck, it is impossible not to look away, as these two bring the play to its climax. The Stranger is something of a psychological thriller and it is no spoiler that the characters are required to undergo transformation as a consequence of deceit, love, betrayal, and the exigency of extremity. Without divulging the ending, it is difficult to say more, but it is nail-biting stuff. With the clock (audibly) ticking down, the audience grapples with the inconsistencies of one character who is simultaneously attractive and repulsive and another who is both naïve and perceptive.
The piece is enhanced by an evocative sound scape, effective lighting, and a startling use of symbolism. The set is stylised, suggestive of the era, without the ponderous detail typical of such productions. At no point does it ever feel like Tasmania (jokes to that effect are jarring), but it does allow the focus to be on the performances.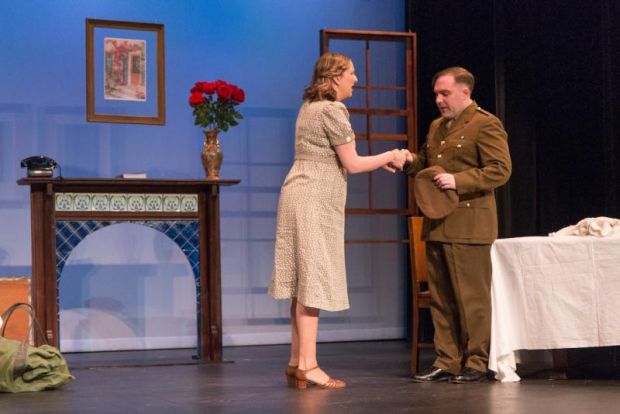 The Stranger gains momentum imperceptibly. If the urge to warn the actors of impending peril can be resisted, the denouement is cathartic.
Anne Blythe-Cooper