A Streetcar Named Desire
By Tennessee Williams. New Farm Nash Theatre (Qld). Nash Theatre, Brisbane. May 11 – June 1, 2013
This community theatre had a gypsy history since its 1994 inception at Nash Street School of Arts in Rosalie, whence they were moved to Balfour Street, New Farm (1996), then a live theatre stint on one stage of the Valley Twin Cinemas, followed by a roving year in 2004 until they settled in the Merthyr Road Uniting Church Hall which they now call 'home'. Nash re-established their reputation and now attracts a loyal following. The stage has limitations but they are used to adjusting to performance spaces.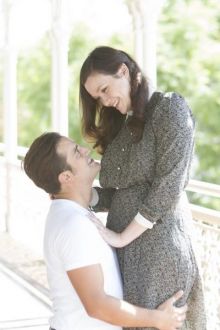 Stage size was the most challenging obstacle director, Brenda White, had to address, but in spite of it or because of it, this Streetcar focuses on the central events of the piece – what transpires in the little two-room apartment of Blanche Dubois' sister and brother-in-law when the destitute Blanche imposes herself on their hospitality.
Christine Urquhart's claustrophobic set captures the heat, humidity and lifestyle of the poor people living in the New Orleans misnamed 'Elysian Fields'.
Melanie Myers (Blanche), Lia Davies (Stella Kowalski), Tristan Ozinga (as Stanley, her husband) and Ralph Porter (Mitch) were shrewdly cast and rose to their dramatic challenges. They played their own parts brilliantly while carefully attuned to one another like a fine quartet. The other six players supported them splendidly to achieve one of the clearest interpretations of this play I have seen.
Nash should be on a winner with this one!
Jay McKee
Images: Melanie Myers and Tristan Ozinga
and
Lia Davies and Tristan Ozinga