Summer of '42
By David Kirshenbaum and Hunter Foster. The Hills Musical Society (NSW). Don Moore Community Centre. June 17 – 25.
Summer of '42 must have about the hottest kissing I recall in an amateur musical. The sexuality is unashamed. I hear it hasn't been a show for the more old-fashioned tastes of some musical society members.
Teenage rites-of-passage movie Summer of '42 has been adapted as a musical, which played briefly Off-Broadway in late 2001. In the aftermath of September 11, the likeable musical closed prematurely after just 47 performances, despite a positive critical response.
A decade on, Sydney's Hills Musical Society has staged the Australian premiere, in a simple, enjoyable production.
On entering the theatre, a mix of design styles was apparent on the open stage; an interesting stylized minimal setting on the mainstage, using sloped triangular timber rises to create levels and landscapes, spoilt a little by painted representational settings of two indoor locations on two aprons. Throughout the night, the mainstage proved be a satisfying performance space. It was a pity minimalist vision could have been unified across the production.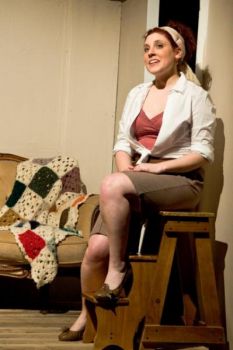 In a clever variation on the same old / same old mobile phones announcement, a voiceover in keeping with radio broadcasts that would follow, set the period nicely.
A shadowy, choreographed opening began the show effectively. Generally attractive costuming helped set the era against the neutral setting.
Adam Haynes as Hermie, Jarryd Prain as Oscy and Alex Capizzi and Benji established three very different realisations of the dramas of adolescent boys There was terrific comedy in the self-consciousness sexual yearnings and tension of youth. Their banter and by-play was all pretty credible.
An Andrews Sisters styled trio became a kind of Greek Chorus, commenting on the action through songs. Not all of the songs really captured the famous trio's harmonic style, but the couple that did allowed allowed Ally Clarkson, Ashli Marin and Nicola Bowman to shine. They pulled off the roles of the various teenage girls in the show very engaingly.
Celeste Notley-Smith played Dorothy, the (slightly) older woman with whom Hermie becomes infatuated. While other performers were very reliant on radio mics, occasionally pushed to distortion, Celeste's rich, strong musical theatre voice provided the night's vocal highlights. While she had some pleasant lighter moments, the real drama of the show centred on her role, and she really found the power and pathos of latter scenes she shared with Adam Haynes, who was an attractive, engaging Hermie throughout.
Sarah Prentice has directed an engaging production, which flows well throughout, with smooth transitions. She has done a fine job given the makeshift vagaries of this awkward venue.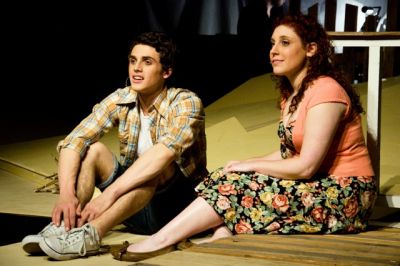 The pop culture references are fun, and the scene where Hermie tries to buy a condom, hysterical.
As for the show itself, Summer of '42 is a pleasant small cast show, though the score is nothing special. Still, it's an attractive enough addition to the repertoire for young companies, and provided an enjoyable evening at The Hills.
The cabaret house style at The Hills Musical Society is a really pleasant atmosphere in which to see a show, with a selection of nibbles including healthy dipping options, and a jug of juice included in the price (BYOG alcohol).
Neil Litchfield
To keep up with the latest news and reviews at Stage Whispers, click here to like us on Facebook, or follow us on Twitter.