Summer Rain
Music: Terence Clarke. Book & Lyrics: Nick Enright. Villanova Players. Director/Choreographer: Helun Ekundayo. Musical Director: Benjamin Richards. Ron Hurley Theatre, Seven Hills, Qld. 13-28 Nov 2021
Villanova Players usually end their year with a musical and this year it's Summer Rain, Enright and Clarke's musical of redemption and renewal.
Set in the drought-stricken outback town of Turnaround Creek, Harry Slocum (Peter Cattach), his wife Ruby (Deidre Grace), his daughter Joy (Priya Shah) and son Johnny (Nikolai Stewart), the remnants of a down-on-its-luck tent show, arrive on Christmas Day to hopefully find an audience. The townsfolk welcome them, but publican Barry Doyle (Leo Bradley) won't have a bar of it. He remembers the last time they were there and his wife having an affair with Slocum. His resentment and eventual forgiveness fuel the drama which includes Doyle's pregnant second-eldest daughter Lorna (Crystal Williams) giving birth, his eldest daughter Peg (Cecilia Girard), having second thoughts about her marriage to war-damaged Mick (Michael McNish), and his youngest daughter Cathy (Lillian Dowdell) finally finding her father.
This soap-opera scenario is played out on a set (designed by Bradley) of the facades of the Shamrock Hotel, and the School of Arts. Both have wrought-iron roofs and both swivel to reveal their interiors - a bar and a stage.
Enright's characters are 'true blue' Aussies who set the stage alive with truth. Clarke's score, however, leans toward Kurt Weill at times, is complex, and difficult to sing, especially for a group whose expertise is usually straight drama.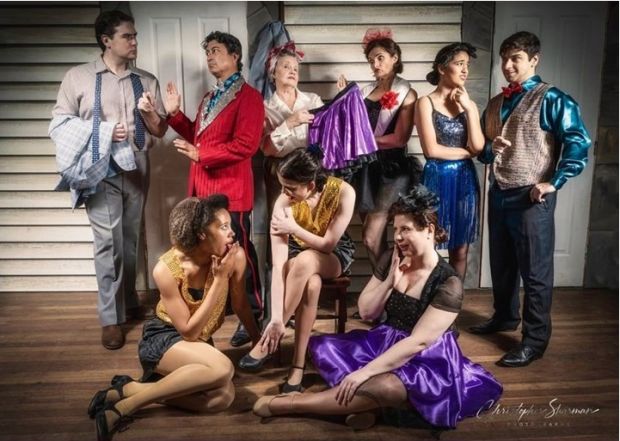 Deidre Grace was a salt-of-the-earth Ruby, a woman continually bruised by her husband's infidelities. Her command of the vaudeville material was spot-on, and her vocals were pitched at a raucous level that screamed Jenny Howard in her hey-day. She brought the stage to life with "Tango D'Amour", military marched to the Sousa-ode "At the End of the Parade", and with Rhonda Wood as Renie, ate up the duet of the shortcomings of Aussie men – "You Might Miss the Mongrel".
Priya Shah as Joy and Nicholas Sayers as town bookie Clarrie were a total joy as they sang and danced "Watch the Puddles", whilst Peter Cattach in a sparkly coat put a nice variety spin on Harold's opening ditty "The Show Goes On". Leo Bradley's vocal was underpowered in the wistful "The Casuarina Tree", but the entire cast all got into the spirit of "Have You Heard the One About…?", a patter song with tongue-twisting lyrics.
Kudos to musical director Benjamin Richards worked wonders at the keyboard and conducted the band, which included flute, reeds and a French Horn.
This slice of Australiana mostly hit the mark, was amusing, and nostalgic of an earlier time when rural Australia had to rely on traveling tent shows for their entertainment.
Peter Pinne