Summer of the Seventeenth Doll
By Ray Lawler. Belvoir. Belvoir Street Theatre (Sydney). September 24 – November 13, 2011.
"The Doll" is a fine example of the 'well made' plays of the first half of last century: three acts; a realistic plot line that evolves through convincing and recognisable characters; a breath taking climax; an anticlimax. It worked for Australian and overseas audiences in the 1950s – and it still works today.
Neil Armfield's production at Belvoir is also true to the form. Under his practised direction, Ray Lawler's lusty characters swing us straight back to an Australia of the 6 o'clock swill, seasonal workers, gathered skirts, pedal pushers and lingering post-war conservatism. Though not in Emma Leech's house! She has, for seventeen years, welcomed her daughter Olive's cane cutter boyfriend, Roo and his mate Barney, when they come to Melbourne for the Christmas lay-off. Olive and Roo's relationship is unconventional, to say the least. So is that of Barney and Olive's friend Nancy. Still, they have lasted for seventeen years, each year symbolised by the kewpie dolls that adorn the living room of Emma's modest Carlton home.
But this year is different. Firstly, Roo is feeling his age – and that isn't helped by young Johnnnie Dowd, who has joined his gang in Queensland, and is flexing his younger and stronger muscles. Secondly, Nancy has married someone else – much to Olive's disgust … " Compared to all the marriages I know, what I got is five months of heaven every year."
The play is about change – and how we face it. That's why it still works so resoundingly.
Armfield and his team have deftly recreated the illusion of the post war, working class home of a 50s summer. Hot sunlight streams through the windows. Bright, inescapable incandescence lights the room itself. A simple table and chairs, lace curtains blowing in a hot summer breeze, an overstuffed sofa, a bevelled mirror and Emma's precious upright piano are dwarfed on the bare floor boards of the Belvoir stage. At first it seems as if it might also dwarf the characters. But there is no chance of that!
As the actors almost burst on to this stage, they take us straight into the story and their lives.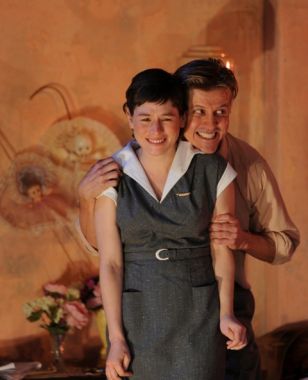 Susie Porter as Olive is vivacious and commanding. She finds the 'girl' in Olive and clings to her desperately. Nothing is going to be different. This lay off is going to be just as exciting as the last sixteen. She oozes enthusiasm and energy – even when, in denial, she sinks into despair.
Steve Le Marquand's Roo is big and loving and powerful. Nothing dwarfs his space – and his underlying brooding discontent and failing self esteem looms in the background of every scene.
Dan Wyllie, as Barney, gives us the performance we have come to expect of him. He is the optimistic, bouncy contrast to Le Marquand's Roo. Loud, cheerful, unrepentant, totally physical – and just as much in denial as Olive.
Yael Stone is youthfully exuberant as Bubba, the girl next door, who is almost family and has known the boys since she was five. Stone never walks! She runs up and down stairs; rushes to get beer; jumps on to a chair to show off her party dress. She bubbles with energy and excitement. Her Bubba is vital and beguiling – and so innocently naive.
As Emma Leech, Robyn Nevin is funny and gruff and totally rooted in reality. Nothing gets past her sharp eye. No one upsets the precarious balance she maintains in her domain. Nevin plays Emma just as deftly as she does every role, on stage or screen. Her Emma is in control. She has battled and she is not going to give in. Even when she is off stage, she is omnipresent! Listening at the door, ready to parry and preach – and protect.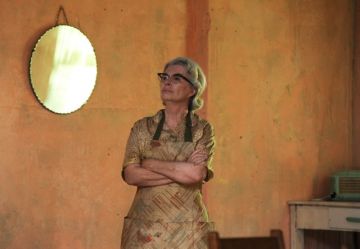 Pearl, whom Olive has invited along to team up with Barney, is the only outsider in this little family gathering. How Helen Thomson revels in this role! She makes full use of her height and elegant bearing – and her ability to find humour in a phrase or a gesture or a shrug. It is a joy to watch her make the most of this lonely, class conscious woman.
The small part of young Jonnie Dowd has been taken over at short notice by TJ Power. His portrayal of Dowd finds the necessary contrast to Roo's disintegration. He is well-mannered, diffident , confident – and young.
The decision, with Lawler's consent, to re-introduce the fight scene at the end of Act 2 was a good one! Carefully choreographed and brutally loud, its realism left the audience deathly quiet - and made the pathos of the final act even more heart-breaking.
This is classic production of a real Australian classic!
Carol Wimmer
READ THE FIRST PAGES OF THIS PLAY AND BUY IT HERE.
images: From top - Susie Porter; Helen Thopmson & Dan Wyllie; Yael Stone & Dan Wyllie; Robyn Nevin; Helen Thopmson & Dan Wyllie, Dan Wyllie & Steve Le Marquand. Photographer: Heidrun Lohr
To keep up with the latest news and reviews at Stage Whispers, click here to like us on Facebook, or follow us on Twitter.