Summer of the Seventeenth Doll
By Ray Lawler. Director: Neil Armfield. MTC presents the Belvoir production. Arts Centre Melbourne, Playhouse. Jan 12 – Feb 18, 2012. Queensland Theatre Company season follows at the Playhouse, QPAC, from Feb 22 to Mar 11, 2012.
The Doll is undeniably one of our best and most enduring plays. This Belvoir production sets a new standard against which future productions will be compared.
Director, Neil Armfield and his inspired cast explore its relevance to modern lifestyles. Starry-eyed Olive tells Pearl that she prefers her annual five months of love, joy and devotion, followed by seven months of warm memories and anticipation of the boys' return, to the drab routine of modern marriage. A contentious attitude in the fifties; not so confronting these days.
The glue that binds this plot is not the question of morality, but the delicate nature of relationships and how changes to established routine can unbalance the situation. For sixteen years the fire in these relationships involved four people. But one of the girls married during the latest cane cutting season, and a younger man became ganger when Roo's back gave in. Life is dismantling their utopia.
The play itself is the star here. The cast work as a brilliant ensemble; top credit to each: James Hoare (Johnnie Dowd), Steve Le Marquand (Roo), Travis McMahon (Barney), Robyn Nevin (Emma), Helen Thomson (Pearl), Alison Whyte (Olive) and Eloise Winestock (Bubba)..
The spaciousness of the set bothered me, as did the massive out-of-character staircase.
Working class Carlton in Melbourne in the 1950s this was not. But the emotional power of the performances eclipsed all that.
This director and his players struck sparks of brilliance!
Jay McKee
Lucy Graham's interview with Ray Lawler at 90
Our earlier Melbourne review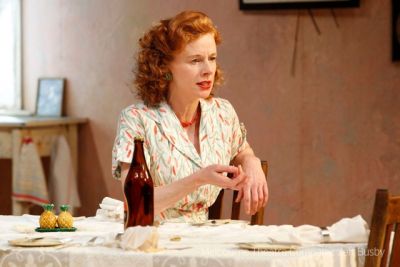 Ray Lawler's classic play about two Queensland cane cutters and their 16-year seasonal romance with two Melbourne barmaids is given a stunning, and faithful, treatment in this Belvoir production directed by Neil Armfield.
An achingly familiar 1950s set, lit by hot summer sunlight filtering through a kitchen window, immediately creates a warmth and intimacy that increases as each character is introduced.
Alison Whyte is perfectly cast as Olive, a delightful but blinkered woman still living a girlhood dream and unable or unwilling to wake up. She enters the play full of life and excitement at the arrival of cane-cutter Roo (Steve Le Marquand), and convinces herself (and the audience) that there is real passion between them. No matter how much she fights for and believes in her relationship with Roo, time catches up and overtakes her. Le Marquand is a great match for Whyte. He is particularly strong in a key scene where he confronts his best mate, Barney (Travis McMahon), at the end of the Second Act. It set the scene beautifully for the final, sad and revealing Act.
Olive's friend Pearl is played by a scene-stealing Helen Thomson, with her glamorous hair, whooping laugh, and to-die-for tailored outfits. As a character, Pearl is far more awake to life's realities, being a widow and a mother of a young girl. She appears sceptical of Olive's "seasonal romance", but isn't above giving it a try for herself. Her early scene with McMahon, in which Barney lays on the charm, is a delight. In the hands of another actress, Pearl could be too bitchy, too funny, but Thomson gives an intelligent and well-controlled performance.
Robyn Nevin, another scene stealer, was an audience favourite as Olive's snippety mum, Emma. She has the best 'nanna' accent you'll ever hear, straight out of a 1950s kitchen, and a whole lot more. It's a performance that will bring a lot of smiles, but Nevin also knows how to balance the laughs with the serious subject matter of the play.
The MTC created an extra special opening night when Ray Lawler joined the cast on stage for a bow. He introduced everyone to another special audience member – John Sumner, the man who helped Lawler bring the play to the Australian stage for the first time back in the 1950s. Being in Lawler and Sumner's presence and knowing they were watching the play they created was an unforgettable experience. Lawler thanked the MTC for the production, describing it as "a lovely doll".
Sara Bannister
Images (L to R) Robyn Nevin, Alison Whyte, Steve Le Marquand, Travis McMahon and Helen Thomson & Alison Whyte. Photographer: Jeff Busby.
More Reading:
Peter Pinne's story on the play's history