Summer Shorts
By Alice Gerstenberg, Noel O'Neill, Suzannah Churchman and Bob Charteris. Directed by Carmen Dohle, Noel O'Neill, Suzannah Churchman and Bob Charteris. Melville Theatre, Stock Rd, Palmyra, WA. Feb 13-22, 2020
Summer Shorts is a series of four very different one act plays, three with local authors, playing at Melville Theatre. A good night of variety and entertainment.
Fourteen by Alice Gerstenberg was first performed in 1919, with the hundredth anniversary of its publication, this month. As a New York socialite attempts to prepare a dinner party for fourteen, she is continually frustrated by the cancellation of her dinner guests. While it is indeed "delightfully dated" as described in the program, this is a charmer in the hands of a good leading actress, and Susan Lynch is excellent in the role of the pushy Mrs Pringle, making this a joy to watch. Alex Banham is wonderful as poor butler Dunham, with Maree Stedul lovely as debutante daughter Maree. A very impressive directorial debut from Carmen Dohle, this sweet little classic set the evening in process beautifully.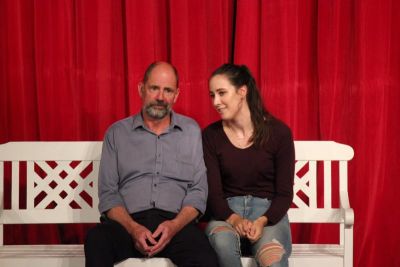 Written and directed by Noel O'Neill, Daddy's Little Girl, set on a park bench in New York, features a father and daughter clashing over the daughter's upcoming nuptials, as she urges him to be less controlling. Short and tight, this little one act has a feel-good vibe, and is very simply played, in front of the curtain. Believable relationships, and great teamwork from actors Malcolm Douglas, as Harry, and Indiana Powell as daughter Mimi
Taking Sides made its debut at the ITA's 2019 YouthFest, where it won Best Production. Written and directed by Suzannah Churchman, it deals with the dilemma of teenage girls being unable to play in mixed AFL teams after they turn 14, and the family conflicts faced by an aspiring footy star. Designed to be played anywhere, it features only two chairs, a couple of basketballs and a football. The latest version is slightly altered to give an adult perspective, as the cast now includes adult performers. Excellent performances, lovely friction and great camaraderie from original cast members Jack Churchman and Bella Freeman as Hase and Sam. Phil Barnett is strong and convincing as Coach Barry, with great support from Indiana Powell and Jason Wall as Hase's parents.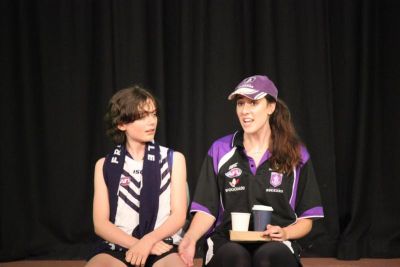 Fleeced features Di Ryman, Peter O'Connor, Elia Waterman, Justin Markham and Rex Gray in this living room drama, written and directed by Bob Charteris. While it doesn't flow quite as well as its stable mates, it is great to see new writing and this show has some lovely comic moments.
Lighting and sound design and operation for all four plays is provided by Jacob Jenson, who brings a very different vibe to each story.
Summer Shorts is a really lovely smorgasbord of a show, with something to appeal to all tastes. A classic mixed with three interesting new shows, you can't go wrong with this theatrical tasting plate.
Kimberley Shaw