Sweeney Todd
Music and Lyrics by Stephen Sondheim. Book by Hugh Wheeler. Produced by Dramatic Productions. Director: Richard Block. Gungahlin College Theatre (ACT). 6 Oct 2017 to 21 Oct 2017
Every year Dramatic Productions showcases brilliant new talent. Last year it was a very young Alex Clubb shining through Catch Me If You Can. This year's revelation is Meaghan Stewart as Mrs Lovett. She blew me away! Stage presence, comic timing, accent spot on, even when singing her lively By the Sea against a near comatose David Pearson (Sweeney Todd) was just fantastic, and her Not While I'm Around was caring and mature. I had to pick my jaw up off the floor after reading that she's only in Year 12. As my companion noted, she got away with things that lesser talents wouldn't, improvising over costuming mishaps, organs starting to play without her and flubbed lines. It didn't matter, because she took it in her stride like a pro and even made it part of the comedy.
The rest of the cast were great too. David Pearson as Sweeney Todd looked a bit like Wolverine and sounded fantastic, nailing the bitter percussive menace of No Place Like London, and imbuing Pretty Women with tension. Max Gambale made an intensely creepy Judge, Joseph McGrail-Bateup was almost typecast as the Beadle, and Lachlan Agett and Demi Smith (a beautifully clear soprano) made a stunning pair as Anthony and Johanna. Finally, young Liam Jackson as Tobias is another young triple threat to watch.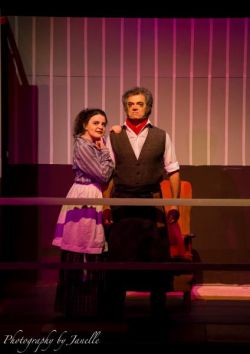 It was just as well the leads were unflappable. A major ticketing mess up meant the show started half an hour late, and I wonder whether resultant loss of energy and heightened nerves might have caused the flurry of minor glitches, an important lighting cue missed and prominent tuning issues in the first half. I'm assuming most of that should be ironed out later in the season.
There were some lost opportunities. Blocking was stodgy between choreographed sections (the choreography itself was good) and the lighting was somewhat bland when it could have ramped up the atmosphere with moody shadows. More than anything though, I would have liked to have seen more blood, although the audience seemed not to mind and cheered heartily as the first victim was dispatched and dumped from the nicely engineered chair into the trap door (which all worked beautifully).
Noting that No Place Like London famously includes prominent use of the word "sh*t" and the obvious murder themes, the lack of gore makes it possibly suitable for younger teens at parents' discretion. All in all, this was a creepily fun production which the audience enjoyed enormously, and Meaghan Stewart's Mrs Lovett is worth the price alone.
Cathy Bannister
Images: Moore Photography / Photography by Janelle.