Sweet Charity
By Cy Coleman, Dorothy Fields and Neil Simon. The Regals Musical Society. St George Auditorium, Kogarah. May 15 – 19, 2012.
Downsizing was the only real option, but what an excellent choice it has proven for Sweet Charity.
The renovation saga of the asbestos plagued Rockdale Town Hall drags on, with another show planned, cast and designed for the venue, needing to be re-thought for a small stage with miniscule backstage facilities.
Pared back to a stylish single setting, using minimal carry-on props, incorporating effective use of projections, director Ste Casimiro and The Regals Musical Society have come up with a pacy, high-energy production.
Though the setting is simple, the show has enormous visual appeal, thanks largely to inventive Costume Designer James Worner's stunning, varied array of 60s costumes and wigs.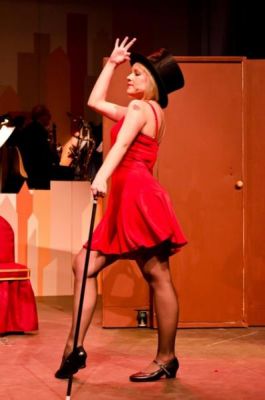 Any production of Sweet Charity rises or falls on the talent and charisma of the leading lady, in the marathon triple threat performance of a title role. Jessica Shanks has, dare I say it, the necessary WOW factor, singing and dancing splendidly, and nailing the deliciously idiosyncratic humanity of the role. She rates highly among some splendid Charitys I've seen on the Sydney community theatre scene.
As her Fandango Ballroom sidekicks Nickie and Helene, Lauren Nalty and Charisse Graber completed the key friendship trio with joy and gusto. Both are strong dancer / singers, who land the Neil Simon comedy that falls to them delightfully. The Fandango Ballroom girls make the most of their work, particularly the in-your-face Big Spender, making a more intimate than usual appeal in the St George Bank Auditorium. Among them though, Meg Day's character, one of several kooky cameos she has through the show, is a scene-stealer (in the nicest sense of the word). Gone, and not really missed, is the almost obligatory Big Spender bar; another inventive moment to thank necessity for.
It would be hard to ask for a better Oscar Lindquist, Charity's big love interest, than Julian Batchelor, giving a truthful, in-the-moment characterization, and singing the role well.
Virginia Natoli, gender-switched to Mamma Brubeck, and her off-siders (with another Meg Day cameo), lead a spirited Rhythm of Life scene. While Ken Dillon finds a strong, sometimes shadowy, presence as ballroom owner Herman, though it's a pity the role had to be cast out of vocal range.
The sole time the splendid convention of minimal props falls away is in the only relatively heavily built scene, film star Vittorio Vidal's apartment. While the usuallly focal bed is cut back to a tiny two-seater lounge, some other dressing makes the stage feel cluttered for the only time. There must be better, less literal ways to handle the wardrobe, too, given otherwise minimalist choices. Just this once, changes felt clumsy. Sadly this impacts on one of two scenes which Claudio Acosta and Christie New share as Vittorio and his starlet girlfriend Ursula, detracting a litle from their confident, appropriately two-dimensional portrayals. Parts of the dialogue and action just don't match the setting, and in a show styled as a tribute to Bob Fosse, Charity loses a classic prop for one of her iconic routines.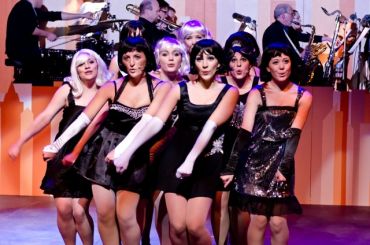 The other big star of the night is the ensemble, giving their all in high energy choreography from director / choreographer Casimiro and assistant Lauren Nalty. Despite the size of the stage, this Charity never felt like a small show. I'm usually not a fan of the use of the auditorium for entrances and action, but the rake of this auditorium makes the space in front of the stage a very useful performance area, with good sightlines. The dance routines are expansive, varied and high energy, lifted by the visual pleasure of a continuous stream of costume and wig changes. There's a good balance of joyous individuality, work pitched to the dance ability of the performers, and tightness.
Another challenge was well met by Kane Wheatley and his on-stage orchestra. On moving into the theatre, and with just two orchestra calls, it was discovered that the band would be split into three 'pits'. By opening night you would have thought it was all part of the grand plan.
Get along and see this entertaining minimalist vision of Sweet Charity. Even if constraints of venue hadn't compelled this approach it would have been an excellent choice, and one worthy of consideration in many more community theatre productions.
Neil Litchfield
Photographer: Bevan Preston.
Our earlier coverage - www.stagewhispers.com.au/community-theatre/meet-sweet-charity