Sweet Dreams: Songs by Annie Lennox & In Vogue: Songs by Madonna
Starring Michael Griffiths. Written & directed by Dean Bryant. fortyfivedownstairs, Melbourne. January 15 – 26, 2014.
As each of his two cabarets draws to a close, Michael Griffiths asks the audience to help spread the word. But, he adds cheekily, keep your mouth shut if you didn't like it.
There's little reason to shut up. The shows, paying homage to Annie Lennox and Madonna, are tight, clever and wonderfully intimate pieces that could work alone or as a pair. They're being presented as a double bill at Melbourne's gay and lesbian festival, Midsumma.
Griffiths has starred in musicals including Jersey Boys and Priscilla. His gender-bending cabarets are at the Priscilla end of the camp scale but they're no less accomplished for it. Almost always in character, he can be over the top, perhaps a little too much so, but it's hard to begrudge that. And with a softness to his voice, he's understated too.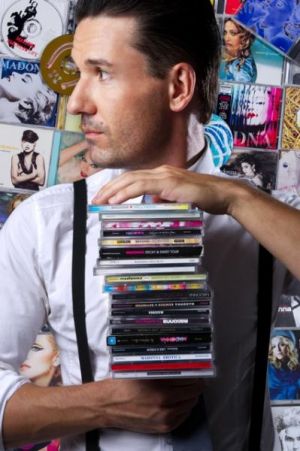 Both shows give a snapshot of two unique divas, telling their life stories in brief through their songs. It's just a man and a grand piano: Griffiths is a brilliant player, has a beautiful tone to his voice and connects effortlessly with his audience, even if he sometimes has to work hard, during a summer heatwave.
The songs of these two pop icons are stripped bare, reworked in beautiful arrangements for the male voice that demonstrate why these two women were such geniuses, both in their own way. "Miracle of Love" is stunningly lyrical, "Like A Prayer" quite poignant. "Thorn in my Side" is upbeat and a real joy through audience participation. "Express Yourself", never a favourite of mine, is ingeniously deconstructed to reveal the elements of a great pop song.
These two shows have toured much of Australia, as well as to New York and Edinburgh. They're polished but fresh.
But it's not just Griffiths who can take credit – much of it also goes to the man behind the scenes: writer and director Dean Bryant.
Bryant, along with his usual collaborator Mathew Frank, is one of Melbourne's most talented creators of musical theatre, in all its forms. He's has also written Liza on an E for Trevor Ashley and Britney Spears: The Cabaret for Christie Whelan-Browne. Sweet Dreams and In Vogue are brilliantly conceived and written, witty, often funny and concise – if anything, a bit short.
In Vogueis funnier, more wicked and probably a more popular show. Madonna is easier to poke fun at – all Griffiths needs to do is read her lyrics as if they're poetry. But Lennox fans like me may err towards Sweet Dreams: her songs are easier to whittle down to their simple beauty.
But, whichever of these icons you like – or if you're just a fan of cabaret in itself – go. And perhaps even splash out on the double-bill.
Peter Gotting