Switzerland
By Joanna Murray-Smith. Sydney Theatre Company. Drama Theatre, Sydney Opera House. Nov 3 – Dec 20, 2014
This is an internationally reaching, masterful new play from Melbourne's Joanna Murray-Smith. It takes some risk focusing on a real-life writer – on her obsessions and her books, her abrasive quest for truth, and her last days holed up as a hermit in Switzerland. Murray-Smith however paints such a sharp fulsome portrait of American crime writer Patricia Highsmith that all we need to know is in her play.
Indeed, with such true and penetrating details, Murray-Smith's play also reaches beyond, to the fraught relationship any writer can have with their imagination and reputation, their need to control and their isolation.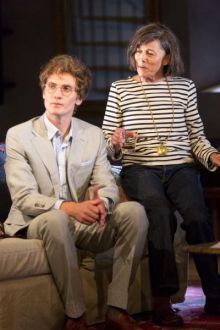 The catalyst is the arrival of a young man. He's been sent by her New York publisher to sign up, before her death from cancer, one more hit novel about her famous psychopathic killer, Ripley. Angular, seemingly naïve, Eamon Farren captures perfectly the strange resolve of Edward. Despite Highsmith's torrents of abuse, Edward just won't take no. In the short time span of the play, he becomes eerily confident and manipulative, even helping her with plotting and finally providing a shocking and intriguing climax.
As their relationship shifts, Sarah Peirse is multidimensional as the mannish, foul-mouthed provocateur celebrating all that is real and unsentimental. Highsmith despises the dumb optimism of her fellow Americans and dismisses happiness as a retreat for the unthinking. While the play crackles with insights and laughter, director Sarah Goodes keeps the focus on character and suspense, rejecting any glib tricks of comedy.
Goodes also makes full use of Michael Scott-Mitchell's masculine and retro- detailed study/living room, a true bunker with roaring fire and windows punched through thick walls to the outside. It's lit evocatively by Nick Schlieper while Steve Francis delivers a creeping score worthy of Hitchcock. Commissioned by the Geffen Playhouse in LA, Switzerland will go far. See it before the world.
Martin Portus
Images: Sarah Peirse and Eamon Farren in Sydney Theatre Company's production of Switzerland © Brett Boardman.