S/WORDS and Unfolding
Choreographed by Lewis Major. Adelaide Festival 2021. The Space Theatre, Adelaide Festival Centre. Mar 11 – 14, 2021
The unbelievable tenacity of the Covid 19 pandemic has at least delivered an opportunity for The Adelaide Festival to grant some main stage time to South Australian artists which may not have been possible if international artists were able to travel here.
Lewis Major is a South Australian artist who has studied, travelled and worked all over the globe to pursue his passion for dance and choreography. After a debilitating back issue stalled his performance career, dance-making became a focus. The other laudable focus that Major embraces is broad collaboration, with dancers and lighting and sound designers. As the genres of contemporary dance and dance theatre progress, quality artistic collaborations, broad vision and chance-taking are the charmed ingredients that will push boundaries and assist in forming new choreographic languages to appeal to the population as we demand more from the artform.
This double bill, rich with collaborative process, began with Unfolding. This is a mesmerising work lit as it is with Fausto Brusamolino's intense digital imaginings. Brusamolino's approach to lighting design 'organically embraces a wide range of visual and video techniques, deploys specifically made lighting, mechanical objects, and uses creative coding to build custom made software'. Currently based in Sydney, Brusamolino received the 2018 Green Room Award for Best Visual Design for Tangi Wai …the cry of water directed by dancer / choreographer Victoria Hunt.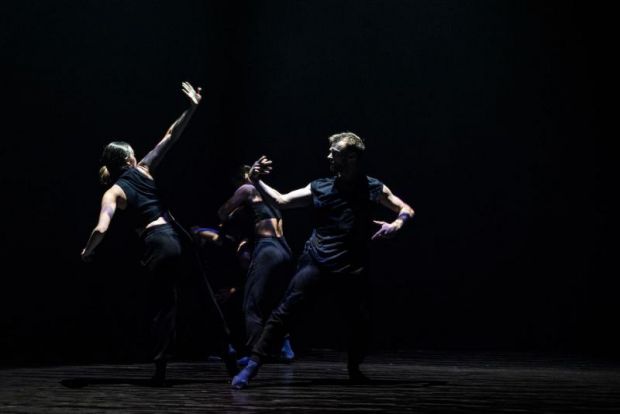 Unfolding began as a lockdown project and was initially devised within a digital replica of a dance studio. Although planned for twelve dancers, this production uses only four: Clementine Benson, Sam Hall, Stefaan Morrow and Sarah Wilson, although the precision visuals add another, extra presence on stage. The music and sound design too, by Sydney-based James Brown was a standout. The synergy between choreography, light and sound reminded me of the collaborative ventures of Merce Cunningham, John Cage and Robert Rauschenberg where each component is as important as the other but all work together to create something larger.
The exceptional dancers move sinuously within the lighting parameters and react to the shifts therein. Their undulating, floor hugging, entangled dance is both enhanced and led by the moving light effects projected onto the stage; it seems at times they are no longer on a flat surface. Other images emerge too so that our perception of movement, height, stability and place is challenged. Sometimes shrinking to darkness, the scene changes and the dancers take on otherworldly states. Painted by muted light, clothing removed, we could be observing undersea creatures. Also building from darkness, a warm amber lighting state shifts us from the more frantic sections as four bodies emerge and a slow fade to black marks an ending, or perhaps a rebirth and a new beginning.
S/WORDS, the second work, is an episodic dance theatre piece, again with design collaborators Brusmolino and Brown plus a larger and diverse cast of talented movers and actors: Clementine Benson, Paulo Castro, Sam Coren, Christopher Dyke, Sam Hall, Stefaan Morrow, Lily Potger, Michael Ramsay, Sophia Van Gent, Georgia Van Gils, Jo Stone and Sarah Wilson.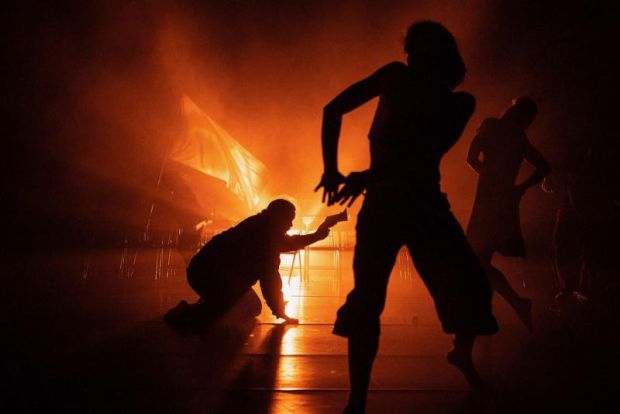 We are introduced, by actor Paulo Castro, to the idea of a 'keeper of words' and have the sense of a misfit group abandoned and hidden away from an external, cataclysmic threat. The music and soundscape is also punctuated with fearful booming sounds that stop the performers in their tracks and create mounting tension. Both the initial and final voiceover tracks could have been set more clearly in the mix so that more of the intent was discernible.
The various episodes are bookended by lighting shifts, a range of music styles and sound cues, and a multitude of folding chairs rearranged in the space. The movement language is informed by contemporary dance as well as more pedestrian styles with some notable solos by Stefan Morrow and others. Some group scenes brought to mind the work of Hofesh Shechter's Grand Finale with the energetic, almost fevered movements lit by smoky amber lighting. Other fragments included couples embracing and still others, a seated row of performers executing gestural sequences.
As in Unfolding, the eclectic music and complex sound design in S/WORDS is a feature. I marked one particular section where the recorded sound of nattering voices mingles then cross-fades with the performers' own spoken words. Additionally, the visual power of the climax is made stronger by the extreme lighting, haze and sound as those elements become performer and the human cast remain still.
S/WORDS is a work that deserves further investigation and development and perhaps another showing in future. It is a brilliant concept, has a wealth of excellent components and I note the intelligent inclusion of Lou Cope as dramaturg - but it has not quite reached the peak of its potential.
We need creatives of vision like Lewis Major in this country to further the significant genre of dance theatre and they should be supported with appropriate funding that serves the breadth and value of the work, celebrating its relevance to our humanity.
Lisa Lanzi
Photographer: Andrew Beveridge