The Table of Knowledge
Performer / Devisors: Arky Michael, Jane Phegan, Yana Taylor, Kym Vercoe and David Williams. A Version 1.0 and Merrigong Theatre Company co-production. Illawarra Performing Arts Centre. August 30 - September 20, 2011.
Sex, Lies and Dirty Deals! A production based on the true story of corruption at Wollongong Council. A cast of only five playing multiple roles captured the essence of a scandal of epic proportions that culminated in the sacking of the whole council in 2006. No surprise that every performance has enjoyed full houses, with an extra six added to the season due to popular demand. After all, this is their council and these characters were elected officials supposedly representing their interests.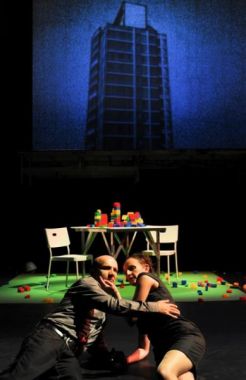 The story spans a period of time in which the key characters, an unscrupulous developer, his female councillor lover and the General Manager of council are investigated by the ICAC.
The dialogue is mostly verbatim from the transcripts of the official enquiry, giving the depiction serious weight. Using the transcript gave it a compelling and convincing tone, holding the audience, all of whom had a profound and genuine interest in the whole sorry saga, spellbound.
Interesting use was made of large background screens showing abstract graphs of building sites, city-scapes and a local kebab shop where the shonky deals took place. Lego played an important part throughout the production, worked into structures representing buildings and perilous situations.
The design and overall staging was minimalist but still appropriate and clever.
I would highly recommend this production for its intrigue, human interest, quality of performance, peppered with humour, drama, sex, malice, con men, bribes and cloak and dagger.
Apart from a good night's entertainment, at the very least it has helped achieve closure for a disappointed local community.
Marianne O'Connor
To keep up with the latest news and reviews at Stage Whispers, click here to like us on Facebook, or follow us on Twitter.