Technicolor Life
By Jami Brandli. The Depot Theatre, Marrickville. July 26 – Aug 12, 2017
In her commitment to giving voice to female protagonists, playwright Jami Brandli makes "no apologies for writing complicated, big, sometimes messy and often times funny, plays about women". Far from being messy,Technicolor Life is very cleverly crafted and is yet another play that meets Depot Theatre's aim to challenge its audiences.
It is very entertaining, despite the fact that it explores a range of thought-provoking themes. Through the eyes of fifteen-year-old Maxine and her family, Brandli's play covers aspects of love, ambition, war, rape, post traumatic stress, voluntary euthanasia, divorce, remarriage – and the need to stay strong and independent. And it does so without preaching or moralising!
Julie Baz's direction matches the pace and style of Brandli's writing with a clear and empathetic vision. She pushes her cast to find the many highs and lows of their characters, managing multiple changes of scene on a set cleverly designed by David Jeffrey.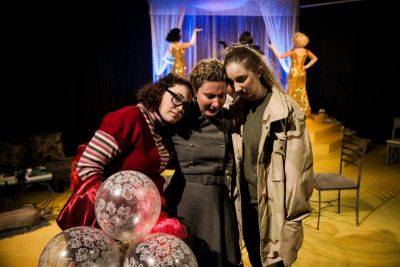 The play is funny and touching, using storytelling, realism and symbolism to juxtapose the brutal effect of war and the 'galmourising' of women in musical films such as Gentlemen Prefer Blondes.
Nyssa Hamilton introduces the family and their issues in 'narrator' style as Maxine. Hamilton is vibrant and convincing, her bubbling energy emphasising Maxine's curiosity and persistent optimism. Her relationship with all of the characters is believably strong and convincingly innocent and she carries the significant weight of playing storyteller, daughter, sister and granddaughter with consummate ease.
Tasha O'Brien plays her sister Billie, a once ambitious soldier who has lost her hand on deployment in Iraq. O'Brien expresses the complexities of Billie's character – her initial zeal and determination, her grit in battle, her capacity for love, her loss of faith and confidence and her resulting slide into depression.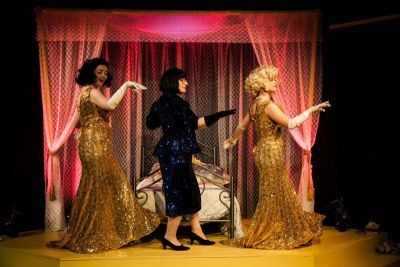 Their mother, Susan, is played by Cherrie Whalen-David. She balances the role of mother, lawyer and deserted wife carefully, almost controlling the anguish that simmers beneath her stoic restraint until faced with the arrival of her feisty mother, Franny, and yet another 'issue' with which to deal.
Cherilyn Price is loveable funny as Franny. She exudes the joie de vivre of a loving 'granny' while effectively covering the vulnerability of terminal illness with gutsy positivity and a multitude of wigs. Price's energy and vitality underline the strength of this character and her enveloping love.
Emily Sulzberger and Amy-Victoria Brooks are enticingly glitzy as the blondes gentlemen apparently like to prefer – though the 'spice' they bring to the play is definitely 'tongue in cheek'!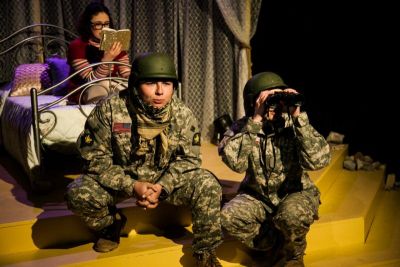 Though 'writ small' the males in the play cover a range of character 'types'. James Martin plays two very different young soldiers. As Peter, he is the bird-watching but committed soldier who steals Billie's heart. Later as Jake, he is the gentle veteran amputee with whom Maxine 'sets Billie up'.
Michael Harrs manages to juxtapose chauvinism and compassion in the roles of Captain Rye and Mike. As Rye he is a harsh misogynist, cruel and opportunistic. As Mike, the man who supports Franny in her decision to 'escape' her illness, he is kind and empathetic.
This is a fine production, directed deftly and performed with enthusiasm and skill. It is another arrow in The Depot's quiver of punchy theatre.
Carol Wimmer
Photographer: Katy Green Loughey