Terror
By Ferdinand von Schirach. Presented by Red Phoenix Theatre and Holden Street Theatres. Holden Street Theatres. 20 - 29 October, 2022
For anyone who struggled with the terrifying choices needed in Sophie's Choice, this play, Terror, ranks with the impossibility of there being one right answer to a moral dilemma. Imagine the following scenario.
A plane from Berlin to Munich is hijacked by terrorists and is flown towards a football stadium where Germany is playing England. Seventy thousand people fill the stadium and Major Lars Koch, a fighter jet pilot for the German Federal Forces, has to react. Ignoring orders to the contrary, he takes matters into his own hands and shoots down the plane, killing all 164 people, including two children, on board. Consequently, he is charged with murder. His belief is that it was necessary to kill a few to save many.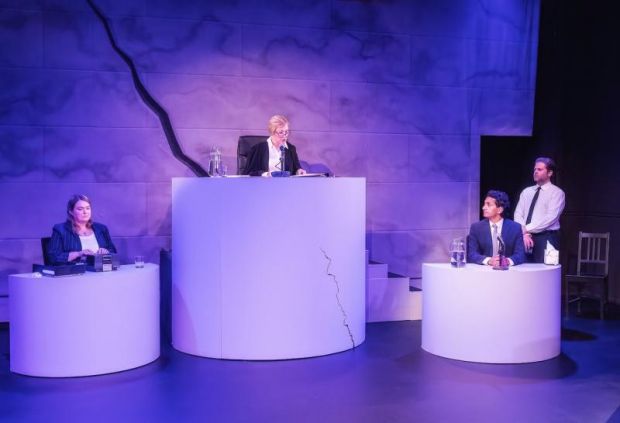 On entering, each audience member is given a ticket with a Guilty of Not Guilty choice option on either end, and so the audience become the judging team who sit through complex, challenging evidence for 2.5 hours. We are not merely at the theatre; we are participating in a criminal trial. It is gruelling and exhausting, but curiously satisfying as the final sentence is completely determined, entirely by the audience. The first half is one hour and 40 minutes long and the judging, attentive audience really deserves comfortable seats, so taking a cushion would help even if it does not alleviate the very limited space between rows of seats.
The set is simple, yet complex. It is a courtroom with the presiding Judge (a compelling performance by Sharon Malujlo) being on a very much more raised rostrum. Cleverly and symbolically, the judge's box has a crack that appears from the floor, snaking its way up. The same crack shatters the wall behind the judge, reminding us that justice is so often flawed. Furniture, sound and costumes are kept to an appropriate and essential minimum. There is not distraction from this chilling story.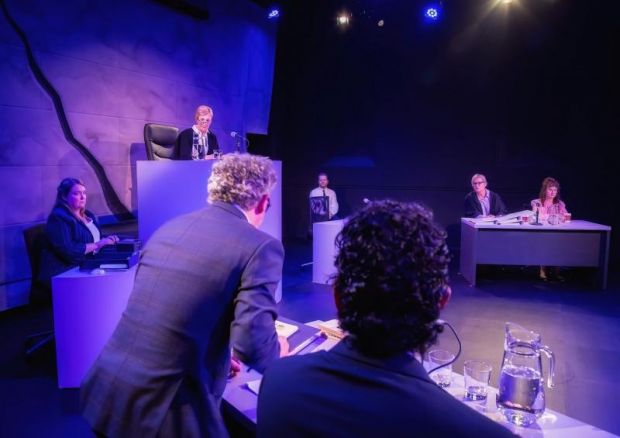 Written by lawyer and author Ferdinand von Schirach, who worked as a high profile criminal lawyer for over 20 years, Terror was first performed in 2015, and to date there have been over 2,600 'trials'. A touch of genius is provided by Richard Parkhill's lighting that is ably operated by Harry Ferguson. The courtroom and auditorium are both fully lit, forcing, by default, the audience to be part of the play. The cast talks directly to the audience, referred to consistently as judges, and we are all in this case together.
Directors Brant Eustice and Tracey Walker have cast this piece impeccably. They have also ensured that pace, pauses, unspoken gestures and movement create a totally believable courtroom. The subtlety of interaction between Rachel Burfield as Nelson, the State Prosecutor and widow Franziska Meiser, played by Kate van der Horst, is touching, apt, and cleverly used to establish both characters. The somewhat louche demeanour of the Defence Counsel Biegler, played with charisma, passion and humour by Bart Csorba is strategic and calculated; his gestures and movement being confident and expansive. Fahad Farooque, as the defendant Lars Koch, is utterly believable as a military trained man whose own sense of principles being challenged by doing what is right is presented logically and powerfully. Both Csorba and Burfield use beautiful vocal range, nuance and emphasis. Their performances are exquisite.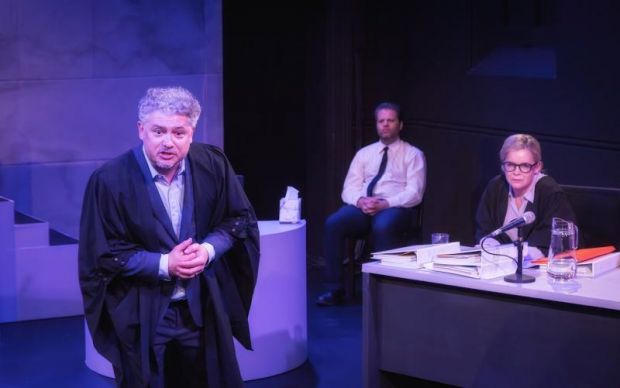 Pete Davies, often seen in comedy roles, is very much the 'by the book' Lt. Colonel Christian Lauterbach. His byplay with Judge Malujlo was a delightful and believable exchange, as is his presence in this serious role. The writing determines the scope for an actor and van der Horst as the widow of one of the victims tugs at one's heartstrings as she describes reclaiming personal effects and finding her husband's shoe because he always took good care of the shoes that he saw as a long term investment, gives a touching, if perhaps rather restrained performance. Compared with the attire and look of others in the courtroom, she appears somewhat casually groomed and attired and for me, until she was introduced, her role as both a witness and Plaintiff was unclear. There are no small roles and Ruby Faith as the Court Stenographer is completely in character as is Sam Creighton as the Guard/Bailiff.
This is technically community theatre but the demands placed on the cast, met with confidence, power and ease, surely elevates it. All of the cast have complex monologues with little respite, and Burfield, Malujlo and Csorba have the challenge of legal jargon and concepts presented as objective, rational and able to be embraced and understood by the audience of judges. Malujlo gives a masterclass in timing and pacing. Her every word and gesture is designed to create flow and her leadership in this role is a joy to watch.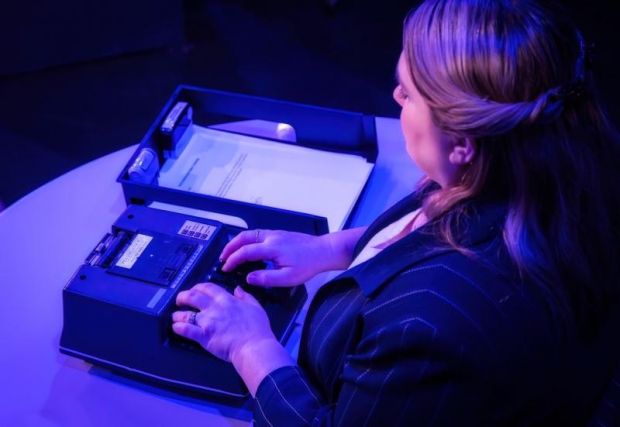 This is serious theatre designed to provoke, and on Opening Night, the audience vote was overwhelmingly 76 to 29. Chillingly we are reminded that 'there cannot be a war without victims'.
Around the world, they are tallying the final decision from each 'trial' and here is your chance here to be a part of history.
Jude Hines
Photographer: Richard Parkhill