Is There Something Wrong With That Lady?
By Debra Oswald. Griffin Theatre Company. SBW Stables Theatre, Kings Cross. April 13 – 24, 2021
Debra Oswald is a success, writer of three novels and about ten produced plays (albeit last century) and creator of the acclaimed Offspring series and heaps of other telly.
Now she takes to the stage with this solo memoir about what a fraught and thankless journey it's been. Sensibly, she admits her good blessings, professionally and with family, before launching into her lifetime of anxieties, and shares these with such an engaging, self-deprecating wit.
Oswald has a great eye for period detail and human flaws – especially her own – much like her partner, broadcaster and fellow writer Richard Glover. She's a teenage playwright trapped in 1960's suburbia, precocious and yet self-doubting, a young hypochondriac then a late age virgin desperate to lose it, a mum paying off her young sons for good storylines for Bananas in Pyjamas. Through it all, why, she asks, do writers write?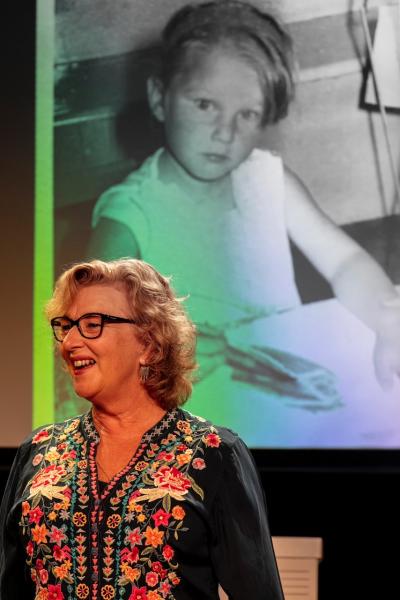 We warm to her success which comes remarkably early and sigh at her middle aged exasperation as that fades, especially for female playwrights. Pained by rejection, she dumps the theatre, but throws to the floor piles of other manuscripts, other work which never got up. For a non-professional performer, Oswald mostly glides entertainingly through her many tangents, supported by props, moves and projected images, directed by Lee Lewis.
A sharp edit would cut the generalising, maintain the urgency, but we love Oswald for baring her heart with such laughter. Of course, it takes success to be up to that.
Martin Portus
Photographer: Brett Boardman