The Third Beauty: Shakespeare's Women
Adapted and directed by Michael Beh. The Curators, Spring Hill Reservoir. 5-20 October, 2018.
The deep and dark 'rooms' of the Spring Hill Reservoir make a fitting location for a mosaic of soliloquies, dialogues real and imagined, and complete mash-ups of speeches by some of Shakespeare's most loved characters – all of them women. Macbeth's three witches set the tone with their opening chant and lead us in to hear from Juliet, Queen Gertrude, the Nurse, Cleopatra, Desdemona and Lady Macbeth, to name but a few who contribute to the hurly burly of action. The only missing voice I expected, and who would have been right at home in the medley maze, was Queen Mab.
This production is staged by independent Brisbane theatre company, The Curators, who aim to bring new life to classical theatre. In the case of The Third Beauty, their production is presented as a late night pop-up theatre experience. Director, Michael Beh, has put together a delightful miscellany – and it is a treat to hear Shakespeare's language performed in the natural acoustic caves of the reservoir.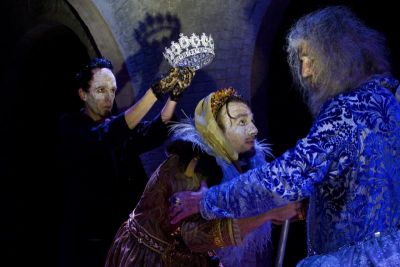 The Third Beauty harkens back to the Elizabethan age when female characters were all performed by men. This is a cast of all-male leads – although I think it could also be playfully and vigorously staged with an all-female cast. The 'Third Beauty' plays on the concept of the 'third sex' where individuals are neither male nor female, but rather gender ambiguous – although, as 'Blue Mage' dressed in a blousey blue satin frock, sporting impressive facial and head hair, Warwick Comber as over-the-top Italian 'Juliet's Nurse' is more reminiscent of TV's Aunty Jack than perhaps he or Shakespeare would have liked. Comber compensates with his other characters including a wonderfully magisterial Titania and suitably dramatic Cleopatra. As 'Gold Mage' Andrew Fraser captures Lady Capulet's tough streak and nails Lady Macbeth's conviction. As 'Pink Mage' Patrick Shearer tackles the more delicate of Shakespeare's creatures with a fine filigree of emotional pieces: Juliet, Portia, Desdemona and Ophelia. All three performers add finesse and much humour – this is Shakespeare after all – to their portrayals of the moon-driven madness of their female avatars.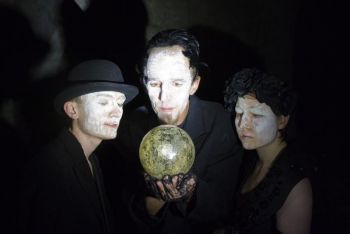 A surprise element that added enjoyment was having props, sets and costumes handled by onstage 'angels' – played by Gene Banyard, Laura Bissell and Cullen Trotter – who, like little Gothic elves, could be found creeping around the rooms or sneaking behind someone in the audience before shining a spotlight on one of the lead characters, or showering them with glittering confetti.
Audience members with a good knowledge of Shakespeare's grande dames will possibly gain more from the production than those with just a passing glance at the characters and their contexts. However, even a complete Shakespeare novice will thoroughly enjoy the energetic performances and the experience in such a unique setting.
Beth Keehn
Photo Credit: Leesa Dexter Photography