Thoroughly Modern Millie
Music by Jeanine Tesori, lyrics by Dick Scanlan, and a book by Richard Morris and Scanlan. G and S Society of South Australia. The Arts Theatre, Adelaide. 28th September - 8th October 2016
It was with some trepidation that this reviewer ventured to the Arts Theatre, on a post- apocalyptic storm night, to see Thoroughly Modern Millie. Pre- show, director David Sinclair came to the stage to remind the audience that the show had missed its Technical Dress Rehearsal and official opening night due to the storms. We were asked to be understanding of this should it not go to plan. Well! If the plan was to explode onto the stage with joy and colour and lift the spirits of waterlogged Adelaide, it was a smash!
Thoroughly Modern Millie is a Tony Award winning musical based on the 1967 movie starring Julie Andrews. Always a hit with audiences because of its balance of comedy, romance and dancing, this particular production shines because of the talent and the beautiful design. David Sinclair is to be congratulated for his vision and staging for this show and for assembling such a talented cast!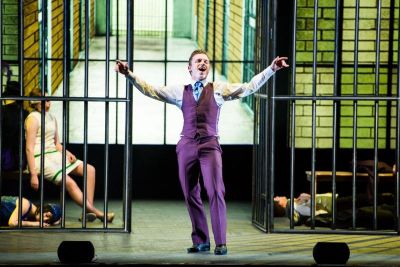 From the opening of the show, we were immediately immersed in 1920's New York City. The use of a transparent screen with city scapes, linking to clever back screen projection gave the set a three dimensional realism rarely seen in shows attempting to use cyc projection. Beautiful use of colour and art-deco design with changing washes were a perfect backdrop and brought the black and white street scenes to life.
From the moment Millie (Alana Shepherdson) entered the stage, she commanded it. Transforming from a drab 'wannabe' girl to a 'modern' during the show's title number, Shepherdson, dressed in an outfit reminiscent of a New York Taxi cab, truly took us on a joyful tour of this city. This girl has buckets of talent - a triple threat who is very watchable and inhabited Millie from start to finish. Some highlights were her wonderful rendition of "The Speed Test", "Forget about the boy" and "Gimme Gimme"- all delivered with sass, energy and perfection.
Special mention for a wonderful character portrayal of Mrs Meers has to go to Pam O'Grady. This talented veteran of Adelaide theatre had the audience in stitches. Each time the 'sinister baddy music' was played, heralding her entry, there was an immediate heightening of attention and anticipation in the crowd. O'Grady was fabulous in the (nowadays) politically incorrect role, shifting effortlessly from her 'Chinese' character to her criminal alter ego. Her stage presence was a joy to watch.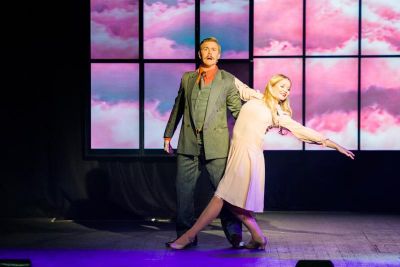 Mitchell Smith brought Jimmy Smith to life. , showing a strong understanding of the character and ability rarely seen on stage in one so young. A true talent, his singing, dancing and acting could not be faulted. The scene on the window ledge with Millie was wonderful and both characters made tap dancing on a narrow 'stage' look effortless. Emily Wood is another triple threat talent to watch. Her portrayal of Miss Dorothy was suitably innocent and over the top and her beautiful soprano voice was a joy to the ear. The "Falling in love" scene with Buddy Dawson (Trevor Graydon) was hilarious and deliciously overplayed by both characters. Buddy Dawson revelled in his role, hamming it up as the pompous, self-obsessed boss who ultimately falls in love with Miss Dorothy. He is a clever character performer and again, a pleasure to watch.
Mention must also go to Nadine Wood for her clever portrayal of Miss Flannery. With a flawless American accent and great comic timing, Ms Wood showed us her potential for larger roles in the future. The two Chinese Laundry boys, played by Harry Nguyen and Paulo Nacianceno, were entertaining and comical, bouncing off each other well in their role as Mrs Meers' sidekicks.
A huge shout-out has to go to the ensemble. Vocally vibrant and physically energetic, there was not one member who was not fully engaged in every scene. Dance numbers choreographed by the wonderful Shenayde Wilkinson-Sarti burst onto the stage. Every move was slick and the space used well to build the many show-stopping numbers. Minor characters were all excellent - in fact to mention the talents of each of the ensemble individually is warranted but space does not allow. Well done to all.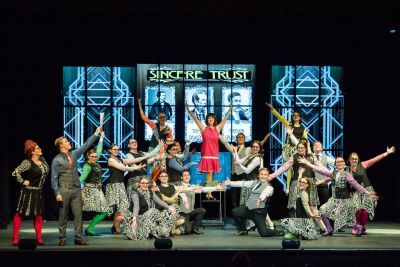 Musically, Thoroughly Modern Millie is wonderful. Heather Elliott's band belted out the bouncy numbers, such that the audience were bopping along even during the prologue. I could not fault the music in any way.
Staging of the show was wonderful. The use of projection video (David Sinclair and Matthew Berry) was extremely clever and the set design and construction (David Sinclair, Brian Budgen and John Axe) was stunningly colourful and immersive. Lighting also was complementary to the era and well executed by Alexander Ramsay.
A show like this does not come to fruition without also the hard work behind the scenes. Kudos to stage manager Tim Bates and his crew and Production Manager Anne Doherty for bringing such a slick show to life without having had a Final Technical Dress Rehearsal. High praise must also go to the costume designs by Helen Snoswell and her team. They were stunning.
Thoroughly Modern Millie is a fabulous show! It certainly pushed away all the grey Adelaide clouds for this reviewer!
Shelley Hampton
Photographer: David Haddy