Through Tim Burton's Eyes
Fierce Entertainment. Directed by Jasmine Stewart -Yates. Camelot Theatre, Mosman Park, WA. 16 Feb 2020
Through Tim Burton's Eyes was a dance cabaret tribute to the films of Tim Burton. It played for a single performance on the final night of FringeWorld.
Performed in front of AV images from Burton films, we saw a range of dance genres from performers Jasmine Stewart -Yates, Ashlee Morehead, Bobby Stewart -Yates, Jacinta White, Natalie Leisfield, Jennifer Collins, Lauren Page and Vanessa Johnson. Featuring some quirky and innovative choreography, the dancers had some strong technical skills, although timing in group numbers wasn't always perfect.
Lots of variety in this show, which drew inspiration from films including Beetlejuice (which opened the show), The Nightmare Before Christmas, The Corpse Bride, Batman, Sweeney Todd, Charlie and the Chocolate Factory and Mars Attacks to name but a few. A huge number of styles were employed including jazz, contemporary, acrobatics and classical ballet, but also twirling, burlesque and pole dancing.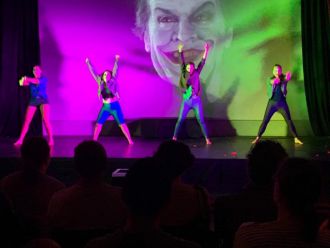 Huge numbers of costume changes and a plethora pf props kept the show continually looking different, and must have kept stage hands and dressers very busy throughout.
This show had a great concept, and the use of so many style choices kept the audience engaged, although at times I felt they were "filling" to make up time (or perhaps to allow changes).
Something very different to finish fringe, and a change of pace from a conventional dance cabaret.
Kimberley Shaw