Thursday
By Bryony Lavery. World Premiere – co-production by Brink Productions and English Touring Company. Director: Chris Drummond. Norwood Concert Hall – Feb. 25th until March 16th, 2013.
Ultimately a meditation on the fragility of life, Thursday is a riveting piece of theatre, ingeniously designed by Dan Potra and intricately lit by Colin Grenfell. It is inspired by the story of Adelaide woman, Gill Hicks, who lost her legs in the London bombings of 7th July 2005.
The play's opening sequence offers audiences a simultaneous fly on the wall view of the beginning of the day of each of the characters – three couples and three singles.
Director Chris Drummond masterfully choreographs his characters through rapid-fire sets of micro-vignettes. Initially what appears to be a bed for two in the centre of the stage sees the characters continue to emerge as each begins their day in their own individual homes. The fast paced action reminds one of Grand Central Station; watching each character go about their morning rituals in six different locations across London is reminiscent of watching speedy jump cuts in a film. Common purpose links the ensemble's parallel actions, as we observe voyeuristically through the transparent walls of bedrooms, bathrooms, kitchens and closets.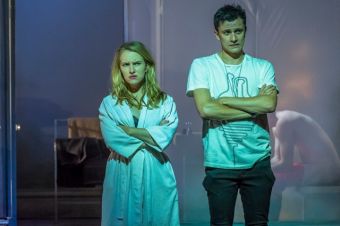 Via an homage to the day-to-day mechanics of sleeping, eating, toileting, arguing, sex, self-doubt and the relentless struggle with the inner dialogue that is everyone's constant companion, we are privy to the pre-occupations and obsessions of each character on this fateful day - a day that will profoundly change, and in some cases end their lives.
Characters cross paths as we meet them briefly – couples Bonita (Emma Handy) and Ryan (Nathan O'Keefe), totally hot for each other and deeply connected; Rose (Kate Mulvany) bitchy and self obsessed and her beau Kev (Martin Hutson), a bit of a slob. The latter are locked in bitter confrontation as Rose continually berates Kev for their lack of prospects. Lesbian couple, Maxine (Lena Kaur) and Hels (Rochenda Sandall) have relationship issues. The bumbling uncertainty of Lionel (Paul Blackwell) as he rehearses for a speech he plans to give later in the day. Elizabeth (Deidre Rubinstein), befuddled with Alzheimers and living in an extremely personalized reality; and ET (Tom Mothersdale) an angry young man.
Initially the characters are consumed by navigating the minutiae of their inner worlds as they struggle with how they see themselves now and in a perceived future in the external world. The character of "Someone", (played by various actors throughout) serves as narrator, providing 'stream of consciousness' running commentary soliloquies of the characters' inner thoughts as they navigate their physical reality. Writer Bryony Lavery eloquently weaves elements of philosophy, science and spirituality into the narrative via monologues by Someone. Whilst this works beautifully, giving a poignant and expansive insight to the thematic concerns of the fragility and mysteries of life, often it takes the place of action, with the audience hearing about what happens, rather than seeing it played out, which sometimes dilutes the potential dramatic dynamics. There are also deftly handled comic moments that deepen our sense of the characters.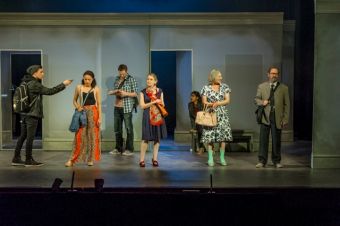 The split second that changes everyone's lives (the bombing) happens in the space of a sigh. Travelling on their way to work on the London underground train the characters, now huddled together in a packed train, jostle for space as they stand in the crowded carriage. Suddenly Rose seems to rise into the air and then all is darkness.
It is not the big explosion that we anticipate. It happens almost silently and in slow motion. The devastation it wreaks is like a silent scream. Theatrically this is a very powerful moment.
As the darkness disperses we see Rose alone in the carriage, bodies strewn around her. Her soliloquy is heart-wrenching, but also measured and clear sighted, qualities that partner well with the stark reality of unexpected tragedy. When her rescuers arrive her injuries are so horrific they cannot determine if she is male or female.
By the third act in the hospital we come to learn the fates of the characters. Bonita's fiance has been killed. Elizabeth is barely holding onto life. He ls has been seriously disfigured. Rose, struggles to understand what has happened to her. In disbelief, she demands to be taken to the morgue to actually see her feet. Recognising the nail polish on her toenails heralds the poignant acceptance of her new reality.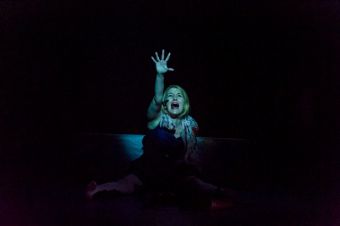 As the third act plays out a more 'present' consciousness prevails. Characters are forced to root themselves in a reality more of the concrete plain of the flesh and blood material world. A reality-check, if you will, has brought them 'down to earth.' This is in deep contrast to the characters' inner pre-occupations of the opening scenes.
The events of the day have also brought about dramatic shifts and role reversals in the relationship of Rose and Kev. Rose, initially portrayed as a 'princess', perhaps surprisingly does not evoke great sympathy from the audience, and despite the tragedy that befalls her, the character's emotional trajectory remains incomplete. I would've liked to have seen a stronger development of the emotional arc of Rose and Kev's relationship. Instead we witness a re-union between them without fully exploring or understanding the journey of how they got there.
This is true ensemble work, with good solid performances by all cast members -Emma Handy stands out as the grieving Bonita, struggling to come to terms with the death of her fiance, Ryan, whilst supporting Rose, with whom she has developed a friendship. Kate Mulvany gives a passionate performance.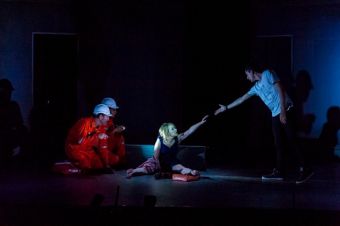 Quentin Grant's live score is evocative and poignant. It contributes an emotional impact to the narrative, an essential ingredient, particularly as the characters (with the exception of Bonita) do not always engage us deeply, in an emotional sense.
The complexity of Bryony Lavery's writing pays testament to the advantages of developing a new play through a workshop scenario that includes the input of the director, actors and in this case Gill Hicks, whose real life experience of the London bombings informed the play. This opportunity for co-creating new work with the key creative players should be encouraged as it clearly provides a more polished new play when it premiers.
An accomplished piece of ensemble theatre. Highly recommended.
Annie Fox
Photographer: Chris Herzfeld.