Tim Ferguson: Carry a Big Stick
New Ballroom, Trades Hall, Melbourne. 23 and 30 Sept, 2011
Tim Ferguson was standing in the bar at the Trades Hall with a few minutes to go before the start of his late-night cabaret, Carry a Big Stick. Casually dressed, and with a walking stick, he exuded every bit of the charm and magnetism that made him a star with the Doug Anthony Allstars in the 1990s. Tim is a naturally talented comedian, with a sparkle in his eye, and it's no surprise he can draw a solid crowd on a miserable stormy night in Melbourne.
As one-third of the riotous Doug Anthony Allstars (DAAS), Tim Ferguson was a 'rock n' roll' comedian. He toured the world alongside Paul McDermott and Richard Fidler, aced the competitive Edinburgh Festival, starred on the ABC's The Big Gig, appeared in sitcoms and even hosted a Logie award-winning show on Channel Nine.
The Allstars were three charismatic Australian guys who were bawdy, cheeky, politically incorrect, and yet could belt out a gorgeous song with great harmonies. Many fans would have watched DAAS and speculated on which of the three would become an enduring star. Many would have chosen Tim, and rightly so.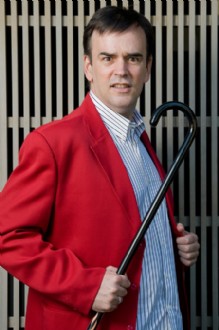 But behind the runaway success of DAAS, there was a "ticking time bomb". In "Carry a Big Stick" Tim begins to share a story that he spent many years hiding from others and himself. During the height of his DAAS fame, Tim battled with Multiple Sclerosiswithout knowing he had the condition. The intermittent attacks, episodes of numbness in his arms and legs and double vision, not to mention the day when he fell out of his bed, forced him to confront his condition, and to end his involvement with DAAS. Many will be surprised to discover this was the reason the group split up.
Tim explains that he didn't want to tell people about his condition because he didn't want them to worry about him, and worse still, pity him. In fact, most of this show is not about MS at all. It's Tim Ferguson, a talented man who conquered the "bear pits" of live comedy, became a Network TV star, a dad, a writer, a one-time political candidate, and more recently, a lecturer in comedy.
Tim keeps the laughs coming, lures audience members into acting out things they've probably never done before, as he's always done. But there is an extra dimension to his performance that perhaps wasn't there in his younger, rock star days. It's a certain grace, dignity, and openness that complements his ever-youthful, cheeky comedic style.
Sara Bannister
To keep up with the latest news and reviews at Stage Whispers, click here to like us on Facebook, or follow us on Twitter.