That Time Everything Went Well And We Were Totally Fine.
Written and performed by Belinda Campbell and Jennifer Piper. Produced by Wit Incorporated. Bluestone Church Arts Space, Footscray. 1-16 November, 2019.
This sketch comedy show has both whimsical and existential qualities. Gerry (Belinda Campbell) and Frankie (Jennifer Piper) are two close friends who are perpetually trapped by their own indecision, fuelled by fear and anxiety. Their limbo existence on a railway platform, aptly named Panic station, is interjected with comedy sketches that parody elements of society that are merely trying to mask the crippling realities that some people must endure, which can lead to mental ill-health.
The staging of this play is extremely clever and the text is frequently very witty; it makes great use of play on words and puns in a way that is not clichéd. Instead the writers have extended their wit to show how people are inclined to bury or deny their emotional discomfort. The comic sketches often belt out the truth behind the facades that we are expected to maintain, even when self-loathing or self-doubt may be eating away at our personas.
Creating characters such as cooking expert, Anne Xiety, and show host, Dean Isle, are among the many humorous touches the show employs to make the point that managing disturbing feelings is a constant battle that many individuals must face on a daily basis. One of the most poignant and relatable scenes was the depiction of a sleepless night where persistent and nagging doubts haunt the psyche. Belinda Campbell was magnificent as the irritating voice in our heads that can drive us to distraction, questioning and second guessing even the smallest and most insignificant details of our lives.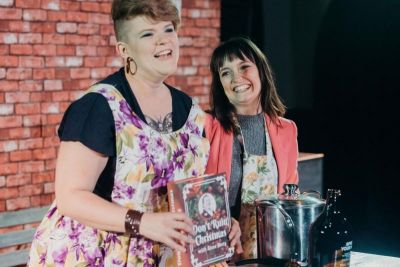 The piece is clearly inspired by Beckett's Waiting for Godot and captures the surreal elements of absurd theatre very well. In fact, Frankie is seen reading the play in the opening sequence while waiting for Gerry, making the homage to Beckett explicit. However, in this show the relationship between the two protagonists is left wafting and what draws Gerry and Frankie together in their inertia is not always clear.
The play is based both on the personal experience of the creators of the show as well as an anonymous survey they conducted. This research and introspection have yielded some very insightful commentary and the text painstakingly observes how avoiding mental health issues will only lead to being plagued by them.
Patricia Di Risio