Tinderbox
By Alana Valentine. Tredwood Productions by special arrangement with RGM Artist Group. Theatre 19 Season, Darlinghurst Theatre. Jan 4 – 27, 2012.
Prolific playwright Alana Valentine has a knack for delivering topical, often verbatim theatre based on researching real conflicts and people. With summer fires again encircling us, predictable and yet always newly shocking, Valentine takes us to a "tinderbox" country town under siege from fire.
A documentary rigour underpins her story of a young arsonist, Ben, his astonishingly patient father – who's a local firefighter! – and a naïve, mentally disturbed girl, Viv, who is drawn to the errant Ben. Their slowly evolving story is peppered with both factual and poetic comments on our national history of fires, their hideous impact on humans and especially animals, and the psychology of teenage male arsonists. It's a big canvas for just 70 minutes.
The trio of actors deliver much of this directly to the audience – and sometimes remotely into the middle distance. On the whole, director, Zoe Carides artfully manages what is an innovative if challenging blend of exposition, poetics and real drama.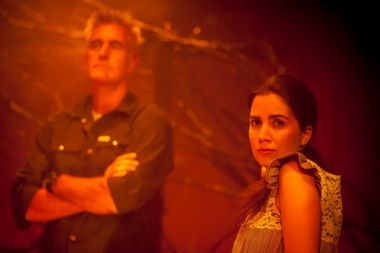 The genius of this production is the creative team – Ally Mansell's nest of smoking brittle sticks which cradles the action, looking instantly combustible under lighting by Benjamin Brockman, and backed by a haunting music soundscape from John Encarnacao.
In this tinderbox, Alan Lovell makes a convincingly authoritative firefighter, and is riveting in his own final astonishment at the unquenchable love he has for his son; Benjamin Ross is stronger as Ben than in the more neutral posture delivering exposition; and Nastassja Djalog excels as the wide-eyed observer, Viv.
In word and sight, Tinderbox is studded with compelling and richly poetic images about this devastating force of nature and our always belated, near futile attempts to live with it.
Martin Portus
Images: Alan Lovell and Benjamin Ross & Alan Lovell and Nastassja Djalog in Tinderbox. Photos by Patrick Boland.