TOME
Freeroam Theatre Inc. Directed by Jhi Rayner. The Sideshow, West End. Anywhere Festival, Brisbane. 14 and 15 May, 2021
I think it was Peter O'Toole who once likened stage acting to an ice sculpture that is unique each performance and of course, melts afterwards, never to be seen again. Freeroam Theatre is experimenting with improvised performances that highlight this aspect of the theatrical experience. Freeroam Theatre is a very young, very new theatre company developed by performers who are recent graduates of the Bachelor of Creative Industries (Acting and Performance) in Wagga Wagga. The cast for TOME is: Charles Sykes; Keeden Hendriks; Sally Jackson; Natasha Shimpf and Haya Arzidin.
While the shows are improvised, they are directed by Jhi Rayner who, I assume, operates the lighting and indicates the end of each sketch by a simple blackout. The spontaneous sketches take the form of individual or groups of peformers taking to a simple stage - this time in the delightful Sideshow stage at the back of the Grounded Cafe on Vulture Street in Brisbane's West End. There's a cool bar and cabaret style seating which means you can relax and enjoy the show in a fairly informal setting.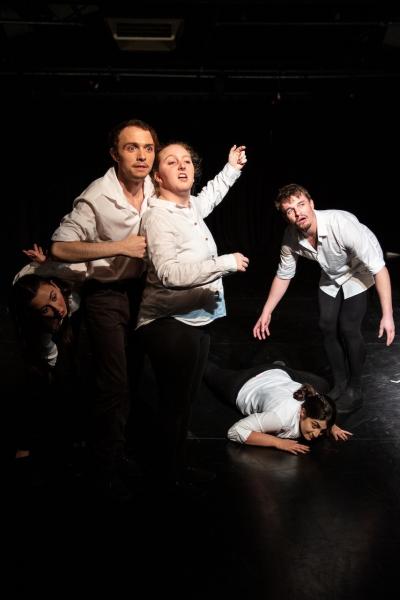 I was talking to Sally Jackson before the show, and learned that the team do not rehearse material as such – they work together to equip the whole team with 'tools' to help move the skits along, depending on where they start and where the team can envision them finishing. The show I saw covered a surreal mix of themes – from Earth-invading pigeons to recruitment interviews for the first mission to Mars. But of course, it will all be different when next they perform. I like the performers – they are energetic and engaging and highly confident on stage. Some sketches lost momentum and could be sharper and short-circuited to end faster. And, while I am not a huge fan of audience participation – it can all go so wrong so quickly – with a small audience of 20 or so friendly faces, there might be some scope to get audience ideas for sketches that could be semi-pre-planned. But the Freeroam group are highly likeable and I respect the fact that not once did they resort to shock tactics or over-the-top swearing for quick laughs. And surreal meanderings with a glass of wine in a coffee house theatre setting is actually a very nice way to spend an hour.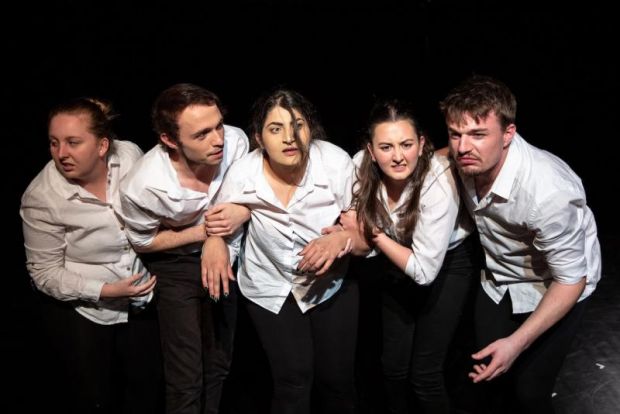 Freeroam perform TOME on 15 May at 4pm and 10pm.
The Anywhere Festival of live, online and virtual reality performances continues playing in all sorts of venues in Brisbane, Ipswich and Moreton Bay until 23 May. https://anywhere.is/
Beth Keehn
Photos: James Farley