Torch the Place
By Benjamin Law. Melbourne Theatre Company. Arts Centre Melbourne, Fairfax Studio. February 8 – March 23, 2020.
Torch the Place is absorbing entertainment in the form of an unfolding story of what is uncovered culturally, emotionally and psychologically when three Chinese Australian siblings decide to step in and help their mother with her overwhelming hoarding problem. The tricky thing is that they forgot to let her know of their plans. It's about family and holding on and letting go.
As audience we get to know each character fairly intimately through watching often uncomfortable yet superbly played interactions. We laugh, and, maybe not cry so much, as dwell on writer Benjamin Law's perceptive and moving insights.
The writing is peppered with extremely funny one-liners, which are delivered with perfect timing. Sometimes they are shockingly crude but, never the less, very telling. The humour is often deprecating though not particularly unkind. However there are some raw and gratuitous punch lines.
To begin with Torch the Place feels a bit like a TV series, which is not surprising, as Law wrote the very successful TV series The Family Law. However it ultimately pans out, thematically, as a play. It is highly familiar as it integrates a considerable amount of Australian popular culture from the last three decades or so. This includes a remarkably telling insight into our brazen Australian lack of social sensitivity through an hysterical reference to Hey, Hey It's Saturday.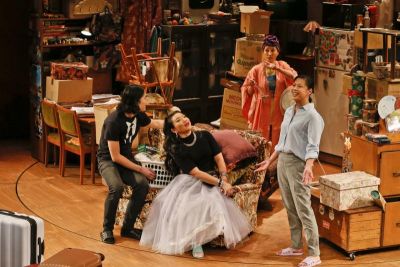 The troubled mother is played as a fabulous manipulator by Diana Lin. She often exhibits childlike dependency despite her intrinsic capacity for being calculating and alert. She is a woman who has lived through a loveless marriage and suffered a very serious loss that could be at the root of her hoarding problem.
Her longsuffering daughter Teresa (Fiona Choi), who most often assists her mother in her day-to-day life, has a loudly ticking biological clock that is the butt of much humour.
Teresa's husband, ultra Aussie Paul (Max Brown), is ridiculously blokie and continually talking about wealth and wealth accumulation from property – a very topical and perhaps somewhat contentious subject .
Sister Natalie, played by Michelle Lim-Davidson, is a social media influencer. Her entrance is all bound up in a fabulous description of what she is wearing – a skirt made from recycled fishing nets no less. In fact most entrances are played with vital rousing energy.
The only boy of the family, Toby, played by Charles Wu, has taken care to keep himself in the closet with regard to his mother at least. But as it turns out, his homosexuality is not as well a guarded a secret as he thinks it is.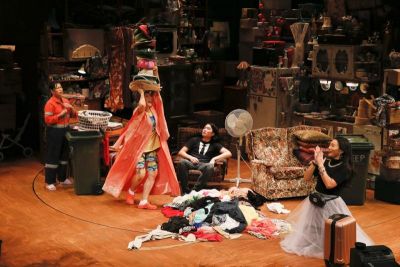 Toby's character utters a very strong Eco/Political Drama diatribe about why we are consumed by consumerism and keep buying, buying, buying. This adds another dimension by explanation of why people hoard. And naturally there are references throughout to Marie Kondo.
The set by Isabel Hudson is its own unique tour de force. It is a kind of block jigsaw puzzle that works very well on the revolve and comes apart cleverly.
The Fairfax is such an opened out space with its opened seating that works really well for intimate theatre. However, if I have any quibble it is with the direction by Dean Bryant. I would so love to see the actors find ways to open out a little more to their audiences, particularly on the stage right side and I didn't hear everything the actors said on opening night. However I did enthusiastically stand with all of those around me for the rousing ovation.
Entertaining, accessible and with loads of laughs and by the sounds of it booked out.
Suzanne Sandow
Photographer: Jeff Busby
Credits:
Director – Dean Bryant
Set Designer – Isabel Hudson
Costume Designer – Kat Chan
Lighting Designer – Amelia Lever-Davidson
Composer and Sound Designer – Clemence Williams
Stage Manager – Julia Smith
Cast:
Paul – Max Brown
Teresa – Fiona Choi
Natalie – Michelle Lim Davidson
Mum – Diana Lin
Toby – Charles Wu