Torch Song Trilogy
By Harvey Fierstein. Gaiety Theatre in association with Mardi Gras. Director: Stephen Colyer. Darlinghurst Theatre. February 6 - March 3, 2013
Some Independent Theatre productions can be so good they outshine many from mainstage theatre companies. Particularly when they combine great skill and passion for the subject matter. Torch Song Trilogy is one of those.
The play ranges from comedy, to bed-hopping farce, to gripping drama.
It opens with the stage stripped back to the bones of the theatre walls. Three Drag Queens apply their make-up in front of stage mirrors, to prepare for a performance.
Simon Corfield shines as the wise-cracking Arnold.
"I've slept with more men than are named or numbered in the Bible, old and new testaments put together.
"And not once has someone said, 'Arnold, I LOVE YOU'."
His foil is Ed played by Christian Willis. He looks and feels like his character, walking the tightrope of a gay and straight relationship.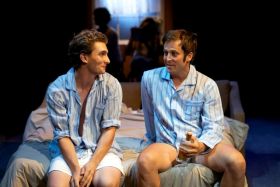 Much of the pre AIDS Gay lifestyle of New York is laid bare. Torch Song Trilogy takes you right into the anonymous sex in the backroom of a New York bar.
Lashings of humour get you past a few moments where perhaps there is 'too much information'.
Even more confronting is the emotional battleground. Especially when Arnold's mother – played beautifully by Amanda Muggleton – confronts her feelings about her son and disappointment that he "chose" to be gay.
The play still resonates 30 years after it was written. The audience gave the performance a standing ovation – recognising that the cast gave everything they had and more.
David Spicer
Images: Simon Corfield as Arnold & Thom Jordan as Alan and Christian Willis as Ed . Photograpger: Greg Doyle