Touching the Void
Based on the book by Joe Simpson. Adapted by David Greig. Melbourne Theatre Company. Southbank Theatre, The Sumner. 17 January – 19 February 2022
Touching the Void is an amazing true story, set in the Peruvian Andes. It has been a book, a successful documentary film and now the theatre play we see here. It involves climbing - something which must be shown, not told - on a dangerous, never before climbed mountain: Siula Grande is over 6000 metres high - and there is no possibility of rescue should anything go wrong. The play is about what goes wrong, so it is immediately intriguing, if not problematic, how this tale can be told.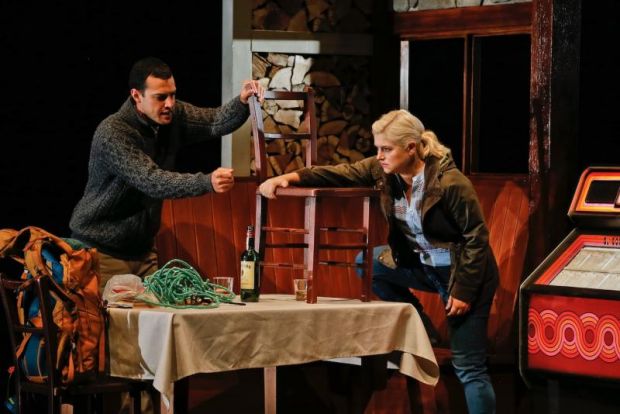 Playwright David Greig's initial storytelling choices are potentially confusing: the play begins in a pub, ostensibly at a wake for mountain climber Joe (Joe Klocek). When is this wake, given what follows? Joe's sister, Sarah (Lucy Durack) is furious at and uncomprehending of this whole stupid mountain climbing thing anyway. Joe's climbing partner Simon (Kevin Hofbauer) and base camp manager Richard (Karl Richmond) attempt to explain why people climb mountains. This is not too satisfactory - it's mainly cliche - but it's amusing because Richard is a motor mouth talking about something he's never done - although he intends to write a book about it. We might also wonder why Simon, who was up on the fatal mountain with Joe, is so matter-of-fact, calm and helpful - and why Richard is so jarringly 'funny' and off-hand… But what Sarah really wants to know, above all, is if Simon is absolutely sure her brother is dead.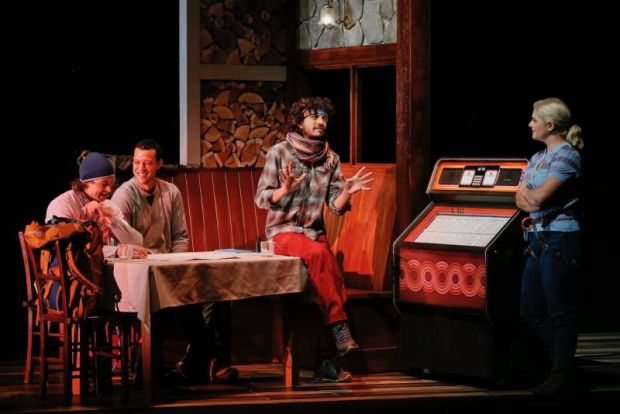 And so the story segues into flashback of the assault on the mountain, beginning with Joe and Simon lightening their packs by jettisoning half their gear in a scene of delirious overconfidence. I should say, at this point, that my attitude to 'extreme sports' is that whatever risks the participants take are problems they choose to have and my admiration for their 'courage' is highly qualified.
Actors Joe Klocek and Kevin Hofbauer are nicely matched. Klocek's character, Joe Simpson, is the devil-may-care, crazy risk taker and adrenaline junkie, flirting with the void, who ropes Hofbauer's more stolid realistic Simon into their hubristic climb. Lucy Durack's Sarah has Durack's customary warmth and presence, but Sarah is more device than character. Yet again, Karl Richmond brings vitality to a character on the very edge of irritating and in fact here, an incongruous vehicle for exposition.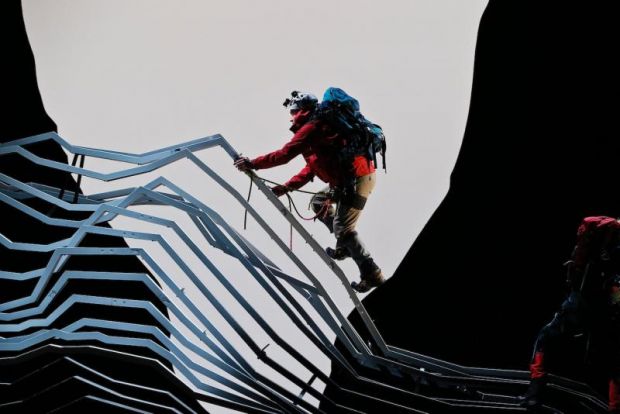 The mountain itself, however, has been brilliantly created by designer Andrew Bailey; it is a towering and quite beautiful steel structure that suggests the mountain's contours, inclines, steep ridges, snow banks and perilous drops (into the void) rather than any attempt to be 'realistic'. Darius Kedros' superb sound design, ranging from howling wind, thunder, and lightning through to the ominous just heard sound of snow collapsing makes a huge and essential contribution - as does Katie Sfetkidis' lighting, from sudden, terrifying darkness to a beam of light through clouds. Movement director Xanthe Beesley has trained Klocek and Hofbauer to duplicate the stresses and strains, the sheer effort, the stretching and heaving of the climbers' movements - upwards, across, sliding down, recovering and going on.
All this is wonderful in principle, in intention, but sadly less so in the realisation. Perhaps I just could not suspend my disbelief so far - sadly, I was not engaged.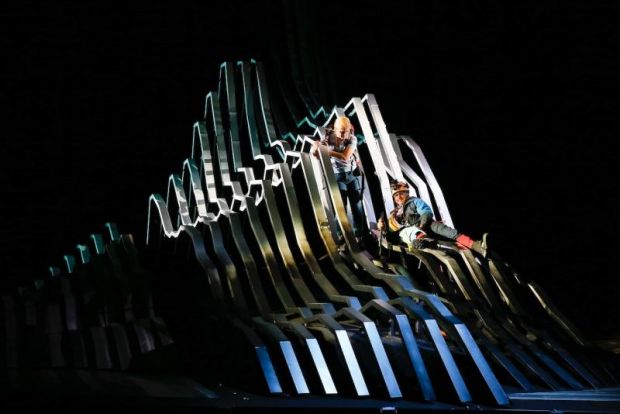 The story becomes far more visceral after Joe's catastrophic fall, Simon's terrible decision to cut the rope which joins them, and the truly horrific injuries Joe sustains. When these injuries are described, we cringe and wince. Surely no human being could survive them - plus hunger and dehydration. Then Sarah is on the mountain with her brother - but in his mind. She says what he imagines Sarah would say were she there - and thus she becomes, on the one hand, a tough, unyielding coach and a functional character, a means of externalising the internal. Nevertheless, we are now held, not just by a man in excruciating pain, but a man who can survive only by near superhuman effort of will. And we have something vital at stake and we have two characters in intimate dialogue - that is, theatre that holds our attention. Meanwhile, it is not quite clear that down at base camp, Simon is hanging on, waiting beyond reason.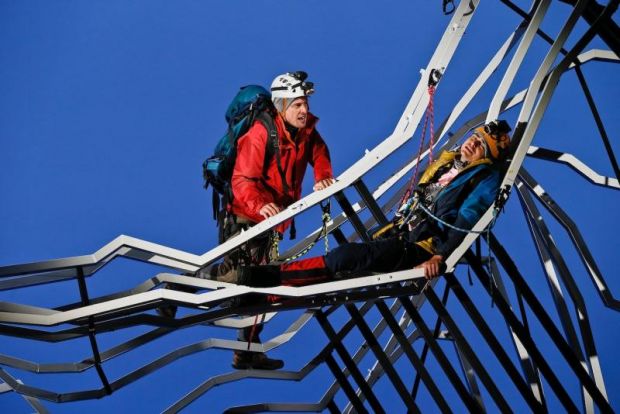 In her program notes, director Petra Kalive tells us of her total belief in and commitment to the production - as we'd expect, of course - but she may see more in Joe Simpson's reflections on life and death in his account of this climb and his other writings, and on David Greig's adaptation, than is actually there - or, to be fair, than can be represented compellingly on a theatre stage.
Michael Brindley
Photographer: Jeff Busby