True North
Concert Hall, Queensland Performing Arts Centre (QPAC). Online livestreamed concert. 6 June 2020.
QPAC's Chief Executive, John Kotzas told Stage Whispers: "While we remain closed, we are focused on finding new ways to continue connecting with communities, artists and audiences." This quest included QPAC's concert for Queensland Day on 6 June. The event was titled True North to encapsulate the definition: 'a fixed point in a spinning world' – the role that culture has played for many people during the COVID-19 crisis. Mr Kotzas, said: "True North felt apt for the challenging environment we are living in and the vital role art can play in helping us move forward."
Aunty Colleen Wall, QPAC's Elder in Residence and writer of the organisation's First Nation's Engagement Strategy, blessed the proceedings in the Concert Hall and handed over to host, Amy Lehpamer. This is the first time artists have been seen (socially distanced) together in Brisbane's South Bank spaces since the lockdown. Given that this was an event to celebrate 'local artists, songs and stories', the song selection was an odd choice, mainly from American musicals, but nevertheless a diverse mix. It certainly highlighted our wealth of Brisbane-born and Queensland-based musical talent, most of whom were accompanied by musical performer and arranger, Luke Volker, on piano.
Lehpamer performed 'Natural Woman' from Beautiful: The Carole King Musical; Alex Woodward sang 'I Believe' from The Book of Mormon; the QPAC Chamber Choir sang 'Lean on Me' by the recently departed superstar Bill Withers, led by Timothy Sherlock; Katie Noonan sang her own arrangement of 'I Wanna Dance With Somebody (Who Loves Me)'; and Queensland Conservatorium Musical Theatre graduates, Shubshri Kandiah and Alex Woodward performed 'A Whole New World' from Disney's Aladdin: The Musical – the role of Princess Jasmin was Kandiah's professional debut straight out of uni in 2017. The duo were joined on stage by Noonan and Lehpamer for a moving closing rendition of 'Somewhere' from West Side Story.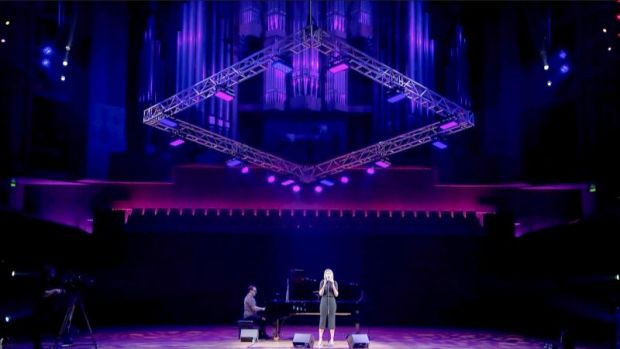 Refreshing additions to the stage were Steven Oliver singing 'You Make Me Feel' from his show Steven Oliver: Bigger and Blacker; Celtic group Sásta's 'Never Trust the Jig', and multi-instrumentalist and beat box artist, Tom Thum looping and sampling live to his 'Love Has Left Here'.
Classical music was courtesy of the superb Camerata – Queensland's Chamber Orchestra, the Queensland Symphony Orchestra's Brass Ensemble and Opera Queensland. Li Cunxin, Artistic Director of Queensland Ballet, introduced a filmed piece performed by Mia Heathcote and Victor Estevez from the group's new online videos – '60 Dancers: 60 Stories', showcasing their talented dancers who have been continuing to practise and rehearse from home. As Li said: "While the world has changed in ways that we couldn't imagine, there is one thing we can be sure of – now more than ever – art must prevail."
This was a theme echoed by the Honourable Leeanne Enoch MP, who acknowledged that many talented artists and companies have adapted to continue working creatively and deliver shared experiences online. She said: "The resilience, creative thinking and selflessness that so many in the Arts sector have demonstrated through the COVID-19 pandemic has been inspirational. Art unites us, helps us heal, provides hope and helps us make sense of a sometimes harsh reality."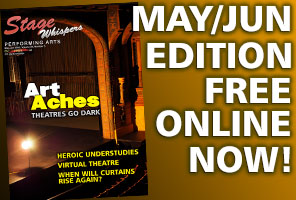 While the shared experience via the online format was a welcome start and hope of thing to come, there is a distancing on screen that surely makes most viewers long to get back into the physical theatre space. This feeling was exacerbated in the True North broadcast by some odd camera angles and shot choices that often left the performer all at sea in the lonely landscape of the Concert Hall stage. Wide shots and jump cuts distracted from solo performances and speeches where a close-up was called for – and thank goodness I figured out how to turn off the streaming live audience comments! However, I hope they made the performers feel that someone was watching and appreciating their work.
One thing that new lockdown-inspired online entertainment shows have highlighted is the complete lack of local musical, comedy and variety content on our television channels. Perhaps our theatre companies, once they've adapted to the technology, could help to fill this void for audiences to see the professional skills, diversity and fresh talent of our local performers.
In closing, QPAC's John Kotzas told Stage Whispers: "Engaging audiences beyond our stages is a continuing priority for QPAC as our mission is to enrich the lives of as many Queenslanders as possible through the arts across our large and diverse State."
True North is available to view on the QPAC website for a week after the performance:
Beth Keehn
Images: Shubshri Kandiah and Amy Lehpamer. Images couresty of QPAC.