The Trumpet Unleashed
Southern Cross Soloists. Trumpet: Miroslav Petkov. Concert Hall, QPAC. 23 Feb 2020
Southern Cross Soloists began their 25th anniversary season with a dynamic program of chamber music showcasing the trumpet and welcoming back for his second appearance with the ensemble, trumpet virtuoso Miroslav Petkov.
With the Concert Hall set up in 'reverse mode', with the audience seated behind the stage and the musicians facing them with their backs to the auditorium, the intimacy generated was akin to a music-salon with the feeling that the musicians were playing individually for each audience member.
First offering was an arrangement by Maurice Andre of a Vivaldi violin sonata for trumpet ('Trumpet Concerto in A Flat Major RV20'). A showpiece, it offered Petkov innumerable opportunities to display his brilliance with terrific articulation, fast and accurate triplet playing in the first and third movements, and breathtaking lyrical passion in the slower andante section.
Three of Rachmaninov's songs ('Romances'), not specifically written for trumpet, allowed Petkov to solo with the instrument in works that were not only tuneful and soulful, but pieces with drama and subtlety, accompanied by the splendid Alex Raineri on piano.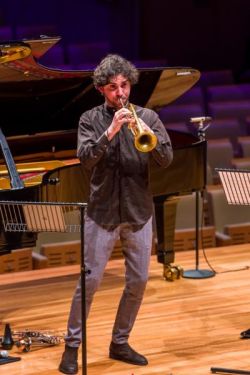 However, the 'Piece de la Resistance' of the concert was a stunning interpretation of Stravinsky's ballet score for "Petrushka." Created in collaboration with Sergei Diaghilev for his Ballet Russes company, Stravinsky's score with its borrowed Russina folk-tunes and bitonal experimentation became an instant success when it premiered in 1911. This reduction of the score for nine players by composer-in-residence John Rotar was remarkable for the colour and tone he achieved in the arrangement. Petkov again worked overtime playing Stravinsky's signature brass motifs, whilst the rest of the ensemble, especially the string work of Alan Smith, James Wannan, and cello guest artist Alice Gott, was impeccable.
Australian music was represented by the inclusion of Jabra Latham's 'Solo No. 3' for clarinet composed in 2019 at the request of the Tasmanian Symphony Orchestra's principal clarinetist, Andrew Seymour. It was the Queensland premiere and Seymour was on hand to play it from one of the balcony boxes. It was an arresting and vibrant piece, as was Dobrinka Tabakova's "Frozen River Flows", with its mix of tranquil and melancholic passages.
"La Virgen de la Macarena" provided a fiery and exhilarating finish to the concert with all hands on deck as Petkov, in mariachi mode, demolished Monterde's traditional bullfighting song. The audience response was deafening.
25 years of chamber music is a remarkable achievement and one to be celebrated. The ensemble should take a bow but especially Artistic Director and oboist Tania Fraser, whose vision has seen SXS become one of Australia's best-loved chamber ensembles.
This year also marks ten years of SXS as company in residence at QPAC - another milestone and another cause for another glass of bubbly. Well done!
Peter Pinne