Tukre'
Form Dance. Lennox Theatre, Riverside Parramatta. April 29 – May 2, 2015.
Tukre', which means pieces in English,is choreographed and performed by Raghav Handa. Born in Australia of Indian heritage, Handa uses movement and music to recall and revere the artistry of his ancestors, who for over a hundred and fifty years, painstakingly created jewellery from gold and precious stones. Handa says "I came to appreciate the 'tension' that builds when a jewellery maker maintains a speed and precision of movement to cut a jewel or shape molten metal ..".
Handa has translated this 'tension' into a contemporary dance performance that pays homage to the past by bringing it into the present and recording it for the future. Through dance, he conjures the essence of working with precious metals and stones: time, patience, fine detail, dedication.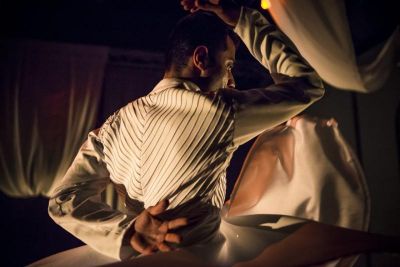 Sitting, he uses carefully controlled movements to simulate the precise movements of finely honed instruments. His hands and arms bend elegantly, time after time, in concentrated repetition as he emulates, in his art, the artistry of his ancestors. In another sequence, a thin band of light stretches across the dark stage. His hands move elegantly into the beam of light light for a few seconds, disappear, and then reappear further along the beam. Very effectively this creates the impression of a time line of creativity.
Handa makes this respectful tribute to his family and their art even more personal by revealing his own vulnerability in a conversation with his mother, she on film (Marin Fox), he on stage. These simple and touching pieces of dialogue link the two present generations even more strongly to those that went before.
Lithe and muscular, Handa moves through carefully choreographed sequences, allowing just enough time between each for impressions to be realised and consolidated. Lighting (Clytie Smith) and music (Lachlan Bostock) assist in suggesting time and distance and the haze between the present and the past.
Carol Wimmer
Photographer: Gregory Lorenzutti