Two Brothers
By Hannie Rayson. Red Phoenix Theatre (SA). Holden Street Theatres. May 18-27, 2017.
In a world where schools in some countries are removing the Arts from the curriculum, Two Brothers by Hannie Rayson epitomises the reason why this is so wrong.
Theatre like this, that educates, builds vital emotional intelligence and helps generate political understanding is paramount, so that we question why things are as they are, how we feel about issues and where our moral compass points are, rather than follow blindly.
Red Phoenix Theatre is to be congratulated for a stunning piece of this style of theatre, which is the third in the series on Politics presented by the company this year. It hits its mark.
First performed in 2005 by the Melbourne Theatre Company, the play's content, whilst based upon the real-life sinking of an Indonesian fishing boat in 2001, is still very relevant today. The political turmoil and general xenophobia that surrounds refugees, asylum seekers, terrorism and wall building is brought bobbing so fiercely to the surface that it's almost as hard to ignore as the plight of drowning refugees.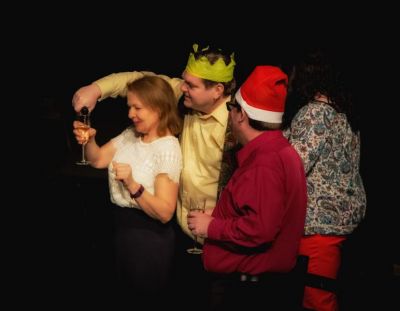 At the time of its writing the play's main characters - James "Eggs" Benedict (Brant Eustice) and Tom Benedict (Michael Eustice) - were inspired by the Costello brothers and there is more than a fleeting nod to the John Howard era in the characterisation of Eggs.
The play analyses power in its many forms, cleverly making us question if democracy actually exists. What can we believe about politics, about terrorists and about the role of government agencies in these issues? It made me stop and think about our society, which we pride ourselves on as being multicultural, one of open-armed 'mateship'; are we the egalitarian society we believe we are?
The play opens with a wonderful series of overlapping vignettes introducing the thoughts and ideologies of Australia, where we meet Eggs and Tom, Eggs' socialite wife Fiona (Lyn Wilson) and Tom's school teacher wife Angela (Tracey Walker).
A particular highlight is hearing Angela calling out the names of Year 10 students who have received awards and to note the lack of Anglo-Saxon names therein. This multicultural microcosm of Australia immediately hits a chord with the audience.
Director Robert Kimber has brought to the stage a play that keeps the attention of those watching, with no break in momentum. We are propelled along by the challenging dialogue, brilliant acting and swift, smooth scene changes. Kimber challenges us to look at the issues from two opposing approaches and this is gritty and very moving. No audience member leaves without having been 'shaken up' ideologically.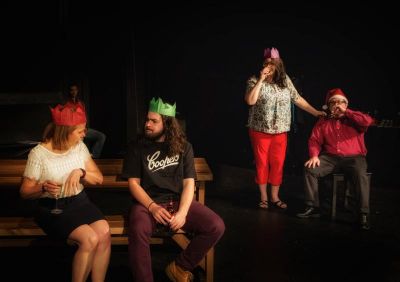 The two Eustice brothers are well known to Adelaide theatre lovers and their face-off in this play is astonishingly realistic and powerful.
Brant Eustice delivers a fine performance as Eggs, the callous Minister for Homeland Security, who is vying for the Prime Ministership. This talented actor plays Eggs as hypocrisy and evil personified and had me riveted to his every word and sly, conniving facial expression. His brief line "take no action" sums up the power of doing nothing.
Michael Eustice's performance as the compassionate, caring refugee advocate lawyer is intuitive and his ability to show the contrast between Tom's struggles against his brother, the politician and his love for his brother, the man, is excellent. There is an almost innocent naiveté to the character, which I found interesting to watch.
Alicia Jaye portrays, for me, the source of some of the real evil in this play - a convincingly brash, unfeeling, calculating 'ball-breaker'- aptly named Jamie Savage. A standout performance.
Tracey Walker again shows why she is one of Adelaide's best actresses - a beautiful performance as the passionate, empathic mother, representing the best that migration to Australia has brought us.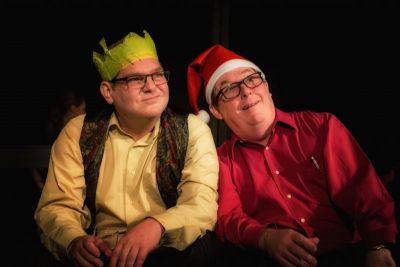 Lyn Wilson is superb in her role as Fiona – the epitome of the nervy upper echelon socialite. She would be very much at home in South Yarra with her perfect hair and clipped vocals. She plays the emotionally battered wife with nuanced understanding.
The two sons in this play also bring contrasting approaches to the issues. Joshua Coldwell, as Egg's son Lachlan, delivers a strong performance as the emotionally conflicted naval son who is a first-hand witness to his father's evil in turning the boats around. Joshua Mensch, likewise, as a complete opposite to Lachlan, plays Harry, the 'wilder' son of Tom and Angela, with a very watchable performance that varies from immobile lack of care to fear and anger.
Fahad Farooque is Hazem Al Ayed, the sole survivor of the sunken vessel, and he plays this smaller but pivotal role with great passion and anguish. My heart ached for his loss, so real was his performance. Cheryl Douglas is a strong supporting actress in minor roles.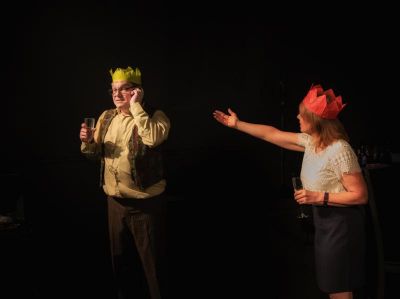 Kimber very cleverly bares all about the refugee issue, metaphorically speaking, by choosing to stage the play in a Brechtian style. All props and costumes are in plain view and actors, when not performing, are seated unobtrusively at the back of the stage. Each moves deftly and confidently in and out of the scenes. The open stage peels back the layers of the story, giving a raw and edgy realism.
Lighting by Richard Parkhill is purposeful - subtle when needed and sharp and strong when scenes are harsh. The light from the telephone signalling the death of one character is ghostly in a dark theatre - very clever.
The minimal black set is symbolic of the murky depths of these issues and the political corruption.
Costuming is very appropriate and goes a long way to creating images - the brown conservative pinstripe of Eggs' suit contrasting well to the 'lefty' reds of Tom and Angela, for example.
This is a moving, disturbing, thought-provoking piece of theatre. A not to be missed work presented by outstanding actors and directed with intelligence and creativity.
Shelley Hampton
Photographer: Richard Parkhill