Ugly Virgins
Written and directed by Sally Davies and Anna Lindstedt. Maiden Voyage Theatre Company and The Blue Room. Jun 1-19, 2021
Maiden Voyage's production of Ugly Virgins, a fabulous dose of "roller derby realness", has been well over a year in the making - but has absolutely been worth the wait. A motley crew of roller derby skaters find themselves out of luck and out of a team, so join together to lift their skills, finding out a great deal about themselves and each other along the way.
The main space at The Blue Room has been transformed into a roller arena, in a fabulous makeover by Eilish Campbell. Lit with sensitivity and a bit of pizzazz by Rhiannon Petersen, the action - often wild and combative, as the cast whiz around the space, happens very close to the audience - meaning that this is very intimate theatre, that makes the excellent performances even stronger.
Sally Davies and Anna Lindstedt, writing for these actors, have created gorgeous multi-level characters that are all flawed but loveable, beautifully brought to life by this strong cast.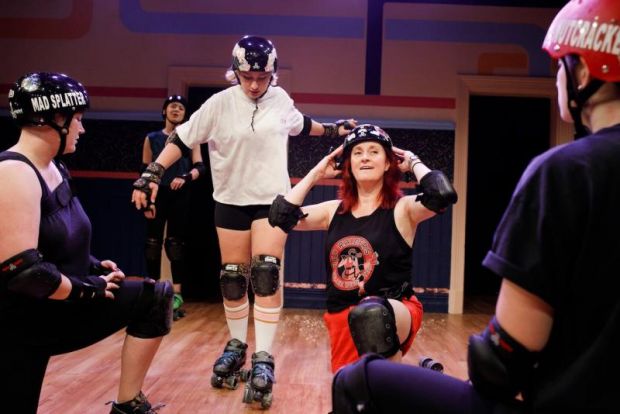 Danielle Antaki as 'Cinnamon Roller' is the matriarch of the group and makeshift coach - a beautifully drawn performance of a highly complex woman, negotiating a difficult relationship at home. She has a strong relationship with 'Nutcracker', wonderfully played by Courtney Cavallaro, whose aggression on wheels masks a sensitive and lonely young woman. Katie McAllister is superb as 'Mad Splatter', an experienced derby player whose injuries have prevented her playing. Amber Kitney gives a very nicely crafted performance as "Large Gunderson', a former artistic skater looking for friendship and a new outlet, while Mikayla Merks is somewhat of an audience favourite as awkward newcomer "Huntswoman", whose journey is a delight - and who has one of the best dramatic exits you will see this year.
The key to this show though is the wonderful teamwork, both within the story and within the production. Fabulous conflict and camaraderie - solid and capable skating, some cool and clever choreography and some spectacular falls - make this very watchable theatre.
Kimberley Shaw
Photographer: Daniel Grant.