Ulster American
By David Ireland. 2019 Adelaide Festival. Traverse Theatre Company. Dunstan Playhouse. March 13th – 17th, 2019
What results when a British director, a female playwright from Northern Ireland and an overbearing American actor meet? A black comedy of epic proportions. Playwright David Ireland has created an intense, confrontational story about gender politics, female empowerment and owning one's truth.
Traverse Theatre Company is based in Scotland and produces and promotes new writing in theatre. Luckily for us, Ireland's acting career never flourished, and he turned to writing plays. Traverse first performed Ireland's sixth play, Ulster American in 2018 as part of the Edinburgh Fringe Festival.
Designer Becky Minto has created a UK apartment, dressed only with a sofa, a steamer trunk that doubles as a coffee table, a drinks cabinet and an ottoman. Although muted in colour, it is a perfect backdrop for the trio of actors who embrace the space.
In the opening scene we are introduced to rambunctious actor Jay (Darrell D'Silva) and meek, yet excitable director Leigh (Robert Jack). The contrast between these two characters makes for some hilarious conversations and even funnier pauses. Meeting to discuss a play that starts rehearsals the next day, they ponder the complexities of the material until the playwright Ruth (Lucianne McEvoy) arrives.
If you think you can guess where this play is going, think again. It delves into thoughts that usually remain unsaid and then pulls you into debating such topics in your own mind.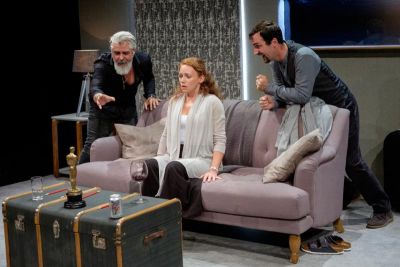 What starts out as a 'mutual admiration society' grinds to a halt when Ruth's script is discussed in more detail. It is only then that we realise how uneducated Jay is and how passionately loyal Ruth is to the subject matter in her script. Leigh flounces about trying hard to be mediator, but he too gets drawn into the looming chaos.
The chemistry between the three incredibly talented actors is what makes this play work. Although there is subject matter that will have you cringing, the precise delivery has you laughing; albeit guiltily. Director Gareth Nicholls has done well to contain this social commentary. The script is relevant and talks of the Me Too movement, Brexit fiasco and the ever-present religious wars. The flawed characters display a cross section of attitudes toward these topics, with the divide and contradictions between genders apparent.
Theatre can take you places you don't necessarily want to go. This play pushes the boundaries until you are teetering on the abyss, but it is that kind of storytelling that is so satisfying.
The climax is ferocious, violent and oddly gratifying. Ruth's final line will have you in fits of laughter.
Kerry Cooper
Photographer: Sid Scott