Un Poyo Rojo
Adelaide Festival 2019. AC Arts – Main Theatre. February 28 – March 5, 2019.
Astounding, athletic, hysterically funny, sexy – there are not enough superlatives to describe Un Poyo Rojo!
An indefinable genre, this piece flows from acrobatics, to athleticism, to dance, to comedy and lastly to romance.
Set in a locker room, two athletes meet. Macho and full of pheromones, initially they seem to be at odds and compete to see who can outdo the other. In brief shorts and tank tops they skilfully combine movement with sound. At times their bodies seem to be made of rubber.
A sound system on top of the lockers then plays a key role as the story complicates. Using live radio for every performance (so that every performance is different) what was competition becomes flirtation and then romance.
There are some wonderful moments; a scene with cigarettes, singing mouth to mouth and some astounding changing clothes in mid-air as the boys end up in wrestling outfits.
The stage director Hermes Gaido is to be congratulated. The piece is well paced, full of energy and humour. This reviewer went to a morning session with an audience full of high school girls who gasped, giggled, laughed and gave the performers a standing ovation.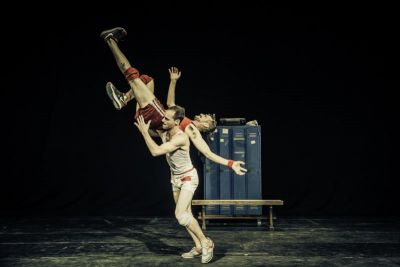 The sheer fitness of the two performers Luciano Rosso and Alfonso Barónis beyond description. They seem to be able to do anything with their bodies and voices. They are at times dinosaurs, runway models, wild animals and more. The chemistry between them is palpable; there is a real sense of trust, teamwork and enjoyment in their work. They are superb at telling their story without using words.
The show is simple in concept, but unbelievably difficult in execution. For the performers it is like running a marathon. Unfortunately the hour speeds by and the audience is disappointed when the performance ends.
After such a physically demanding performance Rosso even provides us with an encore, much to the delight of the audience.
Whatever you see in the Adelaide Festival of Arts put Un Poyo Rojo at the top of your list. It is a sheer delight from start to finish!
Barry Hill