UnHOWsed
By Tashmada and Voices Of The South Side. Theatre Works. 23 October – 3 November 2019
UnHOWsed is the sharing of experiences of homelessness by eight older women. It commences with the strikingly powerful singing by Karen Corbett of "Some Say (I Got Devil)" by Melanie Safka. Corbett's voice reaches out and richly fills the St Kilda air around Theatre Works with a sense of defiance and liberation.
Then the audience goes into the auditorium where all eight women are seated in the performance spaces, individually lit. The floor is of sand – a pit of sand. Could this be indicative of the shifting sands of fortune, the sands of time? 'All of our fates and fortunes rest on pillars of sand'.
The performers are all breathing in, in, in and then out. This breathing suggests shock and trauma then a release only to be followed by more compounding trauma and shock.
Shortly after this we hear a snippet of unforgivable torment from a threatening father, a father threatening with a gun. The women seem to assume the persona of themselves as children. Eventualities are morphing from one thing to another.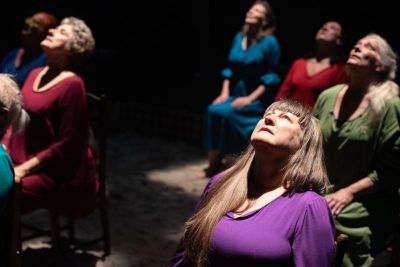 We are provoked to think of childhood and how vital it is to be safe as a child, and how from childhood most of us consider a home a given in our town and suburbs. The proceedings of the first 15 minutes are gripping and deeply moving; they hit home with this reviewer. I felt these very strong women's vulnerability. In this early part of the performance we are made aware of the shabby violations of trust and expectations that can be so deeply destabilizing to an individuals self-esteem and sense of self worth. We recognize this pain as expressed before us - it is palpable.
Subsequently the work seems to more fully explore what it is like to be homeless.
No-one should have to live with the indignity of not having a place that is home – a place to feel safe and secure.
The work speaks of getting busy and keeping one's dignity no matter what. Many facets of homeless lives are touched on - through something of each woman's personal experience. We watch a performer shower herself while she is semi clothed. This is one way to ensure ones' body and clothes are both clean. And seated, the other women take off undergarments indicating the difficulties of getting changed in a place where privacy can only be briefly snatched, such as in a car.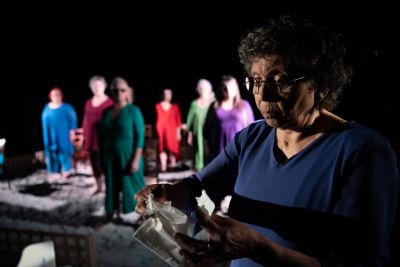 There are many triumphs of pride and self-respect regardless of, or perhaps despite, the types of work and or behavior imperative to survival.
As one gets older, with failing eyesight, and more complex needs, it is difficult enough to manage the day-to-day intricacies and keep track of everything in a stable environment, within a home, let alone a precarious found space.
I have grown up in a culture where single women were supported and assisted, most particularly widows from the Second World War (I guess). Now we live in an era when it is every person for themself. This leads me to the prevailing thought, "There but for the grace of God go I" in relation to growing demographic of homeless older women. These women are my vintage. The givens we grew up with are long gone.
With exquisite skill and acute perception, profound and telling experiences in these individual women's lives are highlighted and mixed into a rich absorbing work by Director Deborah Leiser-Moore. It is a little bit like a thickly rendered semi abstract oil painting - part probing reality, part insightful impression. Not a play – a work of refined art.
Sound (Nela Trifikovic) is striking and often unnerving, with natural sounds mixed in with some grindingly disturbing white noise type sounds. At times sounds imbue the space with a sense of discomfort - perhaps uncertainty.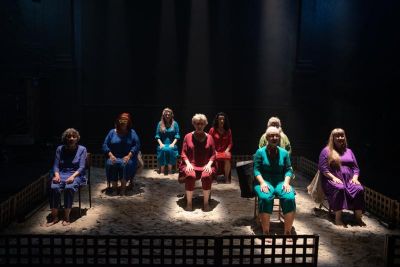 Proceedings start to come to a conclusion with splendidly perceptive black and white photos of each performer - projected, in turn, onto a screen behind the performers.
Then there is the marvelous release of a bit of a joyful singalong.
An inspired and enlightening piece.
Suzanne Sandow
Photographer: Lachlan Woods
Credits
Directed by Deborah Leiser-Moore
Composer/Sound Artist – Nela Trifikovic
Written by The Ensemble
Performers: Carla Mitterlehner, Susan V. M. Macdonald-Timms,
Jan Grey, Diann Pattison, Maurya Bourandanis, Catherine Samsury, Karen Corbett and Lisa Dezfouli
Lighting/Sound Designer/AV – Kinetic Screen
Stage Manager/Production Assistant – Hayley Lawson Smith