Unnecessary Farce
By Paul Slade Smith. Centenary Theatre Group. Community Hall, Chelmer, Qld. 21 May – 11 June, 2022
Actor/playwright Paul Slade Smith's Unnecessary Farce has been given a riotous production by Centenary Theatre Group, with the requisite number of door slammings, characters losing their clothes, and silly situations bringing laughs. Premiering in 2006, this farce is the sort of show community theatre audience's love, and William McCreery-Rye's cast dive into the high jinks with relish.
The plot unfolds in two adjacent cheap motel rooms; in one an embezzling mayor is supposedly meeting up with his new female accountant, whilst in the other two inept undercover cops are waiting to catch the meeting on videotape. That it all goes wrong is a given. Throw in a Scottish hit-man who plays the bagpipes in his kilt, some impenetrable Scottish accents, some dodgy Scottish accents, handguns, and oodles of innocent in flagrante delicto situations, it all adds up to a recipe for success.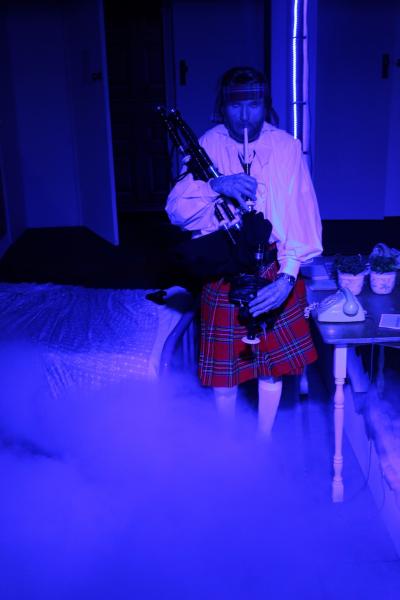 Laurie Webb's hit-man was a terrific character; his brogue was marvelously dense, and his faux bagpipes playing brought laughs. Alizah Pomery's femme fatale accountant Karen looked great in her underwear (which was often) and her diminutive height worked well for the comedy alongside Webb's burly hitman, and Rob Connaughton's cop Eric, with whom she's having a fling. Connaughton also raised chuckles with his cop partner Billie (Leela Bishop), a recent police graduate, whose translations of Webb's incomprehensible Scottish rants was a highlight of her performance.
Nick Cockroft's Agent Frank, the mayor's security man, kept losing his pants, Gary Kliger's Mayor Meekly, interrupted the shenanigans with wide-eyed wonder thinking he was watching a porn movie, and Sarah Britton, as the wife Mary, but in reality Il Duce, of the whole money scam, had a spot-on brogue and brandished a gun like a pro.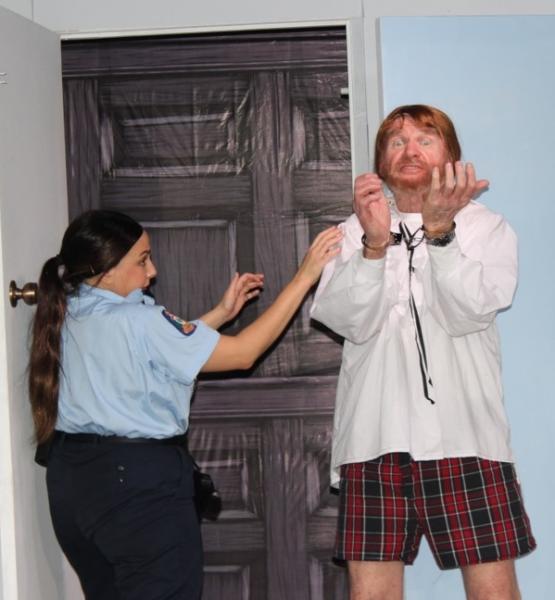 Janine Francis' costumes colorfully added to the mayhem, whilst Rye's direction kept the pace fast and moving. The audience loved it!
Peter Pinne