Unrule
By Michelle Aitken, Alicia Osyka, Chelsea Gibson, Mani Mai Gomes, Rhiannon Petersen. Directed by Michelle Aitken. The Blue Room Studio, Northbridge, WA. May 28 - Jun 15, 2019
Unrule is an offbeat piece of collaborative theatre that looks at women's bodies and health. An emotional roller-coaster of a show, it blends humour with angst, in a show that has some excellent messages and ideas.
Lots of hard work in this show. Olivia Tartaglia's extremely complex and highly decorated set is a visual feast, with Joe Lui's lighting and sound design full of very bold, very strong choices. There are so many features in this show, with elements of verbatim theatre, comedy, puppetry, projections, live film, singing, dance (both conventional and interpretive), some costume surprises and lots of (simulated) bodily fluids (so this is not for the squeamish).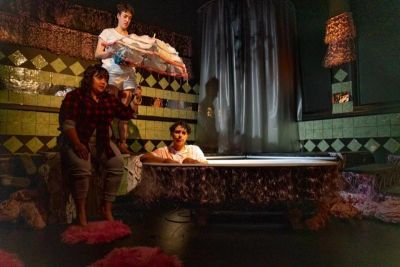 Not everything works, but that isn't really the point. There are messages to be spread and this is done effectively. You are not going to be bored, and if sections are not to your taste, a new style, story or surprise soon arrives.
The performers have excellent rapport and deliver what (I assume) are often their own stories with self-deprecation, honesty, good humour and feeling. Very likeable performances from Alicia Osyka, Chelsea Gibson, Mani Mai Gomes and Rhiannon Petersen.
This show is not for everyone, but for those willing to risk something a bit different, and those who like their theatre experiences raw and edgy, this is an interesting piece of feminist theatre.
Kimberley Shaw
Images: Susie Blatchford from Pixel Poetry.