An Unseasonable Fall of Snow
By Gary Henderson. Adelaide Fringe. Presented by Boyslikeme Productions. Holden Street Theatres. 8-20 March 2022
There's a bare room, with a table and a few chairs. A man sits reading a file, drinking his coffee. A white board has the letters 'AJP' written on it, and through one of the two doors, another man peers through, looking nervous. 'Liam?' asks the man with a file, and he nods in agreement.
The start of this play suggests an interview by someone in authority – a manager in a workplace, a policeman – but the audience isn't given much to go on. We only know that the man with the file is called Arthur, and he's angry, asking questions of a defensive Liam, wanting to know where he was, what time was it, who was with him.
To say more would be to reveal the puzzle – by design, that's best left for the audience to work out through the conversation that unravels over the table. But it is a story that explores masculinity, often of the toxic kind, and asks questions about choices and consequences.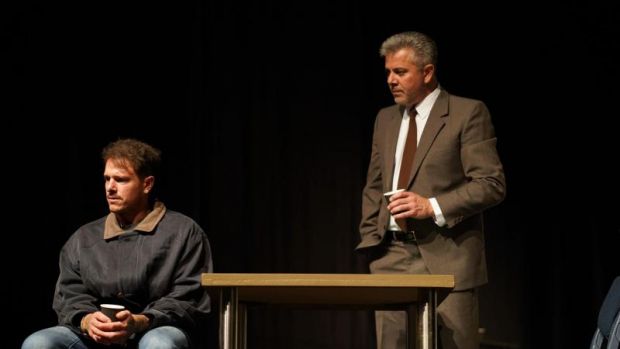 Arthur is played by Gavin Cianci, a convincing authority figure, whose emotions can get the better of him in his questioning – and these are sometimes overplayed. A relative newcomer to the stage is Jacob Houston, as Liam, and he is brilliant as the confused and anxious man, unsure what to say and how he might incriminate himself. You can see him fighting with his own thoughts as he tries to work out how to answer Arthur's questions.
It's a difficult play to block when it's essentially two people talking the entire time, and director Darrin Redgate keeps this pair moving around the room – but always for good reason. The energy and pacing are built and released well, though the sometimes clunky and dated dialogue can break through the tension.
The play's main twist isn't too hard to deduce way before it's properly revealed, but what's more surprising is how the writer Gary Henderson and director Redgate give it new energy and direction after that, and we see new elements from each actor.
An interesting puzzle layered on a fascinating conversation about personal responsibility and the fallout of choices that we make.
Mark Wickett