An Unspeakable Triumph of Supreme Brilliance
By Don Zolidas. Darlington Theatre Players. Directed by Chris McRae. Marloo Theatre, Greenmount, WA. May 1-15, 2020
Director Chris McRae directed the Australian premiere of An Unspeakable Triumph of Supreme Brilliance for Holy Cross College Ellenbrook in 2016. He returns to the director's chair to bring this show to life for Darlington Theatre Players, the 37th production of this show, world-wide. Set backstage and on-stage we get the know the folks at Moss River Community Players, a theatre group in North Central Minnesota as they strive to produce a completely new show in just a couple of days - a situation with which this group can partially sympathise - losing their final weekend of rehearsals and their scheduled opening night to Covid restrictions.
It is a little odd to see a "Marloo show" with a wobbly and incomplete set - but this is not the result of a fraught rehearsal period, and is totally appropriate for the Moss River Community Players. Fabulous work from designer Ray Egan and his set construction and painting team. While Moss River might be short on acting and set building talent, they obviously have a solid lighting team with great atmosphere from designer Bailey Fellows and wonderfully bad timing from lighting and sound operators Chelsea Cook and Timothy Zuiddam.
Lots of lovely attention to detail in this show including some lovely costume details (Marjorie De Caux and Lynda Stubbs with the assistance of Minnesotan resident Dan Collar) - and the posters of previous productions are almost too good (excellent work from Oscar Uetake). Accents are well handled under the tutelage of Marni Klein.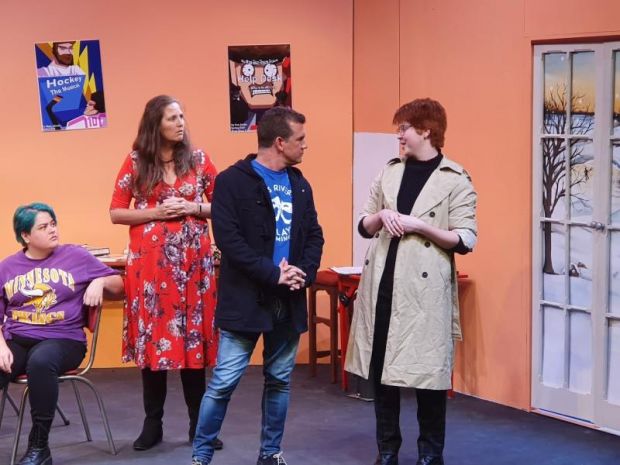 Some of the casting requires a little suspension of disbelief - especially with ages, but the cast work well as a cohesive team. Steven Hounsome leads the cast as "in Show" director Samson, while Ryan Perrin gives credence to their local writer (set an impossible task), Dave. Michael Moshos is an appropriately unlikely leading man as Bob, while Taneal Thompson clearly delights in playing resident diva Deliah. Audrey Poor plays Audrey and shows us that while "our" Audrey is an excellent actress, "theirs" leaves a little to be desired. Chantelle Pitt is great fun as the emotional Tilly. Thirteen-year-old Ellie Jones nicely plays Moss River's Stage Manager Loren, and the fact that they have a child as stage manager, and that she is the most grounded and sensible person in the company, somehow makes sense.
Good work also from the "outsiders". Bailey O'Hehir is strong as the pretentious director of a rival theatre company, while Charlotte Italiano revels in her power as catalyst character Letica Mordecai-Walker.
An Unspeakable Triumph of Supreme Brilliance isn't actually an unspeakable triumph of supreme brilliance, but it isn't trying to be. This is a good fun little show, that is a light-hearted look at the peculiarities of theatre - especially community theatre. A cheery break from the trials of the world and some good fun.
Kimberley Shaw