Urinetown
Book and lyrics by Greg Kotis. Music and lyrics by Mark Hollman. Waterdale (Vic) Director: Daniel Cooper. Musical Director: Ian Nisbet. Choreographer: Narada Edgar. Rivergum Theatre, Parade College. September 25 – October 3, 2015.
Though I was aware of Urinetown, this was my first encounter with this alternative musical. It was certainly different! The whole concept of a drought forcing a town to close all private toilets and make people pay to pee was smack bang in the theatre of the absurd. At the start the narrator spoke about the fact that it was a musical and foreshadowed what was to happen.
I found the production thoroughly enjoyable. It was fast moving. The direction was good and the choreography amazing and tight. The lighting was exciting.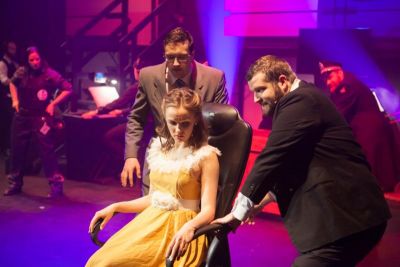 Standing head and shoulders above the rest was Nathan Wright as Bobby Strong. One of the best looking leading men I've seen for a while, he moved well and sang divinely. He worked well with the petite Sarah Cuthbert as his love interest, Hope Cladwell. She also had an attractive voice.
Sam Marzden was the cheeky narrator, doubling as Officer Lockstock. He had wonderful comic timing and a pleasant singing voice. It was a big cast and the show was full of energy with everyone fully involved.
The bare stage had a walkway at the back and the five members of the band sitting under the walkway, occasionally joining in the action. Props were rolled onto stage for different scenes. There was some lovely harmony singing from the ensemble.
The only issue I had was the sound. Sometimes the band were a bit loud, but more often it was microphones being turned on late, so that dialogue was missed. When everything else was so good this was disappointing.
This season deserves to be sold out.
Graham Ford